@UnseelieDiabolus
I now promote you to…
Banjax Rofocale!
Cheif Executive of Hells Kitchen!
Fuck yeah.
Always happy to provide home cooked food porn to the BALG masses.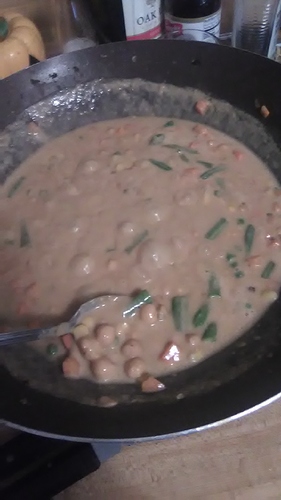 Mixed veggie stir fry with Thai Peanut Sauce. I substituted peanutbutter for "wowbutter", a soy based substitute (you really can't tell the difference), and it's going over jasmine rice.
Thank you very much

Looks boring, but is actually pretty delicious. Brown rice and fried chicken crumbs, red onions and blue cheese, seasoned with chili spice mix and garlic.

That actually sounds delicious!
Sirloin strip steak, cheesy garlic mashed potatoes with sour cream, and cucumber marinated in an herbs and olive oil topped with pink Himalayan salt.
"Bone apple tea


"
I don't even have a meme to express the rage that this picture brings me.
Yummm, I all looks so good.
just realized you spelled it bone apple tea
lmao.
Why would someone stir their tea with a bone and why would there be apple involved? Apple slices don't go well with sweet tea at all : /
I'm confused

Want macaroni now
Lol, it's just a meme phrase.
NEW CRITIC
the greek guy
be ready to have ur head cut off by the criticism