oh fuck HAHAHA i thought it meant september 14 as of 2017
So… About that sigil​:no_mouth:

His name in Hieroglyphics works though if you want to go that way
@aschristi look at this one VK Jehannum is a reliable source:
https://vkjehannum.wordpress.com/tag/anubis/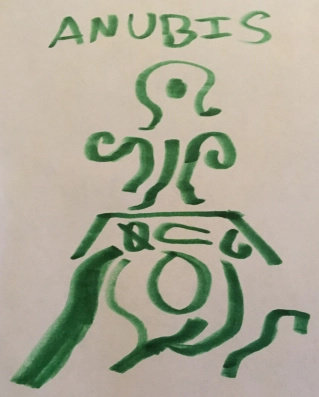 Any luck finding/using his sigil?
The hieroglyphics work just amazingly. I have been working with Anubis for 10 years. And he prefers hieros to be summoned.
I was working exclusively with him for 4 years! We should make an Anubis fan club
We MUST!!! He and Azrael are a very kind-natured spirits, and they don't mind being devoted at the same time. It must have something to do with them being psychopomps.
No, but actually, the idea of the club sounds legit and very interesting!
Pfff, lol. I have just realised this post was started in 2014. I live away with the fairies or something. Hahaha, so me.
Haven't worked with Azrael, but Anubis is the sweetest of them all…! I evoke him from time to time for a chit chat, he doesn't mind at all !
Nah don't worry, we have people asking about him still, so…
Yes, Anubis is my favourite so far, and my main Deity. Azrael is more solitary, and only comes when there's a purpose or when you really need guidance or help regarding his expertise. Co-works really well with other deities similar to Anubis, but he is not good as a main devotion.
@Anassa have you worked with other deities?
It's a long story but I've stopped for several years and started recently again. Nowdays I can't say I worship anyone actually, I'm respectful with all of them and I do my offerings when I evoke them but that's it. Anubis still is very special to me.
Yes I'm working with few currently.
Fair enough Everyone needs to work the way it works for them, and in a way that makes us feel comfortable.
I am very happy to meet people like you over here. There are lots of interesting people. You all brighten the place.
Hi there, i am a newbie and i am very intersted in egyption godd/goddess Can you please tell me what Anubis offerings and what matters he can help Thanks
Hello @candlemagick Anubis is a great God for necromancers to work with as well as mediums diviners and shamans. He's the opener of the path of the upper world and the underworld, allowing spirits and humans to travel between the realms. You can evoke him during sessions to keep away all malevolent spirits. Evoke him to escort a spirit to the underworld (either for banishing or a loved one who passed away).
He's a great guardian for houses, temples and children and everyone who has been abandoned and neglected. And many other things that he will reveal to you as you work with him. Egyptian gods don't joke around, so be ready for a slightly mind fuck. In a good way.
Offer him beer or wine, anything that has to do with graves or…invoke him during a funeral as an offering.
thank you so mch for your help i really appreciate.

do u hve w sigil for Anubis? thanks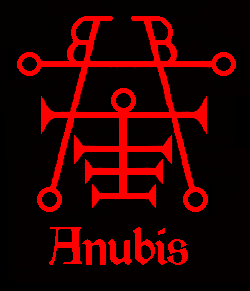 Welcome @amanda_gerow It is a rule of this forum for all new members to properly introduce themselves, so please click the link below and tell us about yourself and any experience you may have in magick, such as what you practice, how long you have practiced, areas of interest, etc: