So, apparently Earth looks like this without oceans: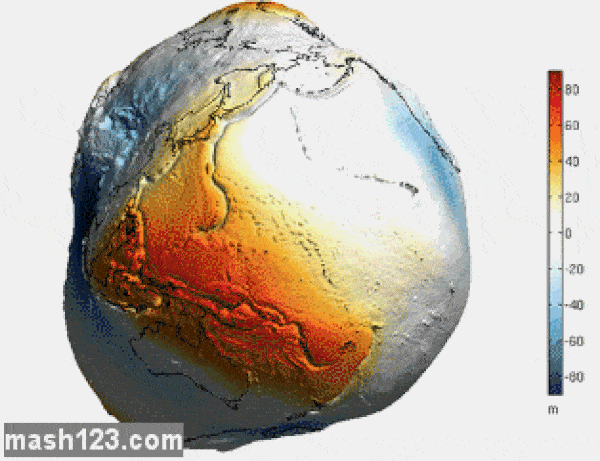 I have to say, Mother Earth looks better with her curves!

[quote]… only the mountains would be enough to end the myth of the perfect sphere, right? Everest rises to a peak of almost 9 km in height, and what is underwater is even more disturbing: the Fassa das Marianas - the deepest place we know - descends more than 7 miles below sea level . It would be the same as arriving at the edge of the beach and soon there is a cliff of more than 11 thousand meters.
In addition, there are technical details such as deformation caused by gravity (gravity on the Equator is different from the gravity of the poles, for example), changes in tidal crust, ocean weight, atmosphere, tectonic plates, glaciation, thaw , effect of the weight of the migrations that changes the axis of the Earth, etc.
In short: the Earth is not flat (shame on you), but goes far from being round. In fact, the Moon, Pluto and a myriad of other celestial bodies seem to be more symmetrical than our home. [/quote]
Original source, Spanish language
Google translation to English
I'd never seen that gif before, thought it was interesting… poor old Earth looks like she got a bit battered at some point, eh?
Flood myths and our orihgins in the sky are almost universal, as well.
This is also moderately interesting, linked from that article:
[quote] In addition, the changing weight of the oceans and atmosphere can cause deformations of the crust "on the order of a centimeter or so," notes geophysicist Richard Gross at the Jet Propulsion Laboratory in Pasadena, Calif. "There's also postglacial rebound, with the crust and mantle that were depressed by the huge ice sheets that sat on the surface during the last ice age now rebounding upward on the order of a centimeter a year."
Source: https://www.scientificamerican.com/article/earth-is-not-round/[/quote]
Wonder how that will affect the various predictions of cities being underwater because global warming?
Anyway, i thought it was pretty interesting if accurate, I could only find 2 sources for that gif & have to do some (real) work now.