I had a dream, I think it was months ago.
IMPORTANT: I never conjured or evoked or invoked a demon, only read about it online and when I had this dream, I didn't even hear about Dantalion before, only after this dream. Never knew this name, that it was the 71st demon of Ars Goetia and so on. I don't practice anything, just meditation and I am born in a Christian family, not such a religious person myself, but I had a fear of ever trying any sort of ritual or anything. I'm still not sure if I ever will do conjure a demon. More likely to call for an Angel if that's possible. People on BALG only talk about demons as it seems.
Anyway, this is the dream:
I was seeing myself as venturing through a dark forest, with yellowish leaves on the grounds as if it was autumn. At some point I started hearing noises and I saw Dantalion, who was wearing a robe kind of thing and had many heads on his "head".
Like in this picture: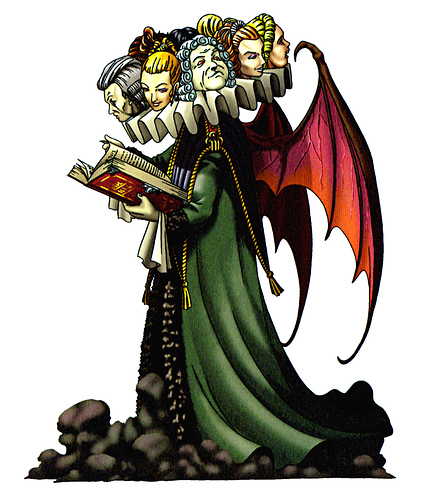 I was kind of running away from him, and he had like a purple aura, I think he was also trying to attack me and I was fighting back, and at some point he introduced himself/herself as Dantalion. Then I don't know exactly what happened, I don't remember all the details, but I know beside me there was my 3 wolves (I posted about them in another topic, please check my activity in profile to read about it). I think they were with me for protection, I assume. Anyway, so I think I woke up soon after I heard Dantalion. Then I searched the name on google and found out what it really is… Please keep in mind that I never ever heard about this name and I got extremely surprised to see that I had a dream that wasn't just random stuff and actually had connections with the spiritual world.
I would appreciate any kind of help on what this dream means. Also, take note that I haven't noticed anything in my life that I can say was affected or influenced by Dantalion.
Any help is really appreciated. Thanks to you all for reading.