Well was spending my day studying for an upcoming exam so ofc inspiration streck and lead me astray.
Have been interested in ouiji boards since i was a kid, never used one thou, parents burned 1 i made as a teenager and ofc ive been told all the horror stories.
As the reliability of them is questionable i havent given them that much thought but now i feelt like i would give it a chance.
So ive started laying out a rough design of it and will se If i can get the materials to make utbyte this week.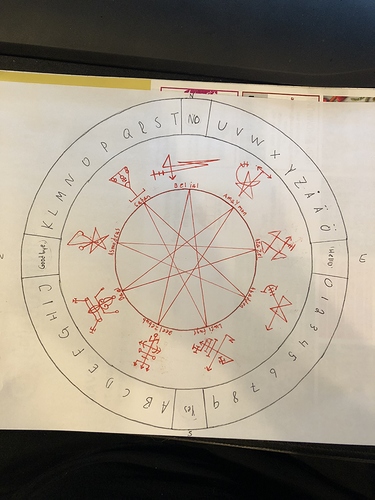 The design of this one is tested towards the 9 gatekeepers and the idea is that the communication will be with them only or if to anyone else then the gatekeepers will act like guardians or watchers.
There are some things i still need to fix on it butvthats only a rough image, the gatekeepers and seals are not all in the right positions so that need to be taken care of, then i need to evaluate the seals but im pretty happy with them and they just feel right.
As for colour of it i imagine it all being done on a 2cm thick wooden board. Base paint black, star and all letters and Numbers in read and the sigills and accompanying name im thinking of making with goldleaf.