Okay, so I experienced something weird.
I'm not developed enough to communicate with spirits. It's been almost a month and I've been meditating every day.
Marchosias came to mind for no reason today. A few weeks ago I burned Marchosias' sigil and took her energy out of my life. This is because I want to reach King Belial. I am trying to reach out to King Belial to assist me in my ascension.
So I don't know how to put it, but when I think of Marchosias today, I felt like I had to reach out to her.
That's why I wanted to use tarot. First, I meditated for 15 minutes. Then, before shuffling the deck, I asked myself if Marchosias had a message for me, and I kept that in mind for a while.
I won't go into too much detail. I briefly used Mike Bee's method.
Anyway, here is the result: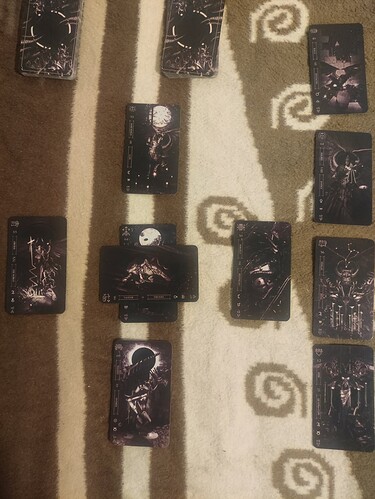 The cards do not look very detailed in the photo. That's why I'm listing the cards one by one:
Card 1: Gamigin - Queen of Pentacles
Card 2: Valefar - The Fool
Card 3: Marchosias - 9 of Cups
Card 4: Paimon - 10 of Swords
Card 5: Forneus - 4 of Pentacles
Card 6: Orobas - The World
Card 7: Sitri - Queen of Cups
Card 8: Stolas - 10 of Cups
Card 9: Haures - Justice
Card 10: Raum - 5 of Pentacles
I'm not sure if I really succeeded in this reading but I was seriously surprised to see Marchosias on the cards. Can someone interpret this reading?