All hard drug runners and the Cartel, ya.
Soooo why would someone say they are not allowed to sell to you?
I don't normally help someone if I feel they're withholding needed info, info that might sway my decision.
Yes! Let's turn the world into a bunch of unmotivated stoners!
Be a lot better then living in a world of Alcoholics, Alcohol fuelled violence.
Nah, man. Meth is the way. Imagine it… A whole world of tweakers awake for weeks at a time, living in a state of perpetual void mind.
Thank you but meth is not for me, i prefer to stick with wicked marijuana buds, i use it for black magic it aids me, great special effects, but when i run out i can go without, when i can get it i only go through 1 to 2 bags in two weeks, also pot use to aid me when i use Mrs Palmer and her five Daughters, play ps4 games, watching blue ray movies, eating chocolates and lollies while stoned.
This is your achievement in life?
Also kratom! We need our herbs and medicines! Plant medicines are what the divines and gods intended for us to use, not some garbage from a quack of a doctor who thinks it's best to just guzzle down pills like Pac-Man
Next time you get bent, smoke three cones in a row, then perform a black magic, give it a go see the difference, compared to using black magic without getting stoned see the difference, so use black magic without getting stoned see what experiences you experience without getting stoned, if you want record it, then next day get smashed from smoking cannabis, after smoking cannabis perform black magic see what effects the link between cannabis and black magic, record if want, next day while straight you will be able to record experience while using black magic under the influence of cannabis, if i can do it so can you, don't forget set up the ritual before go out for a cone, if have a inverted pentagram after getting stoned check out how freakish a inverted pentagram looks while wacked, i usually enter gama theater sync really deep while wacked. Since i cannot score pot because as i living in Australia down under because dealers play god with cannabis, i still practice black magic with out going to gama theater sync until i find a bag of cannabis in the filthy gutter.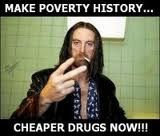 The original UK version of Shameless…
Maybe Doctors use to be pac man in there last life, say why does cannabis always attract nasty criminal dealers selling it, why cant cannabis be grown and sold by people so i don't have to watch my back.
Good question family, it's because much like us plebians or slaves who do magick, the elites of our world do not want us to be able to cure our own diseases and ailments. They dont want us doing magick as it removes their power and potential for "donations and tithes" from us in exchange for enlightenment. Fuck the system, fuck the elites and lawmakers. Someday they will pay their dues my good friend.
I don't need it.
I prefer working from myself with my power not some weeds. Besides I work with Belial who dislikes addicts.
Hmmn, blackcat - you sneaky little furry devil you know there's a rule here that you introduce yourself before making lots of lovely posts?
There's an intro thread - see if you can find it and tell us a bit about your feline philanderings…
I need to jump on desktop, I tried uploading a snapshot and my mobile browser crapped out on me
I will do so very promptly



I finaly gets why more then half of you post cant be understod, you are stoned at the keyboard i take it when you get all those "great" ideas of yours(;
@Grimner sweetie - you honestly hadn't figured out someone who is cursing illegal marijuana growers, dealers who won't sell to him (ask yourself why if even they won't touch him), who feels he is suffering the ultimate indignity of having to find dropped wads of dope, and who then started a thread asking if medical marijuana was the same stuff along with questions on which strain would get you stoned fastest.
@HermesHorse Well darling i guess im just really slow sometimes😘
You're not slow lol you actually thought this person's ramblings could be related to Magick when they are not.
Best not take this one seriously.
Not really i figured someone was watching to much Harry Potter and having an even worse grasp then me for the english language(;