I have been having a few major issues with two colleagues, one in particular is in a position of power over me. (I know - give me a sob story about a bad workplace).
So, I figured who better to call upon than the mighty Belial - the one without master, to remove my 'masters' for me.
However, this is going to be a journal of sorts.
I have evoked Belial tonight, and have made him a very basic offering bowl (Pictured below) and I have this intuitive feeling to record the results. What better place than here?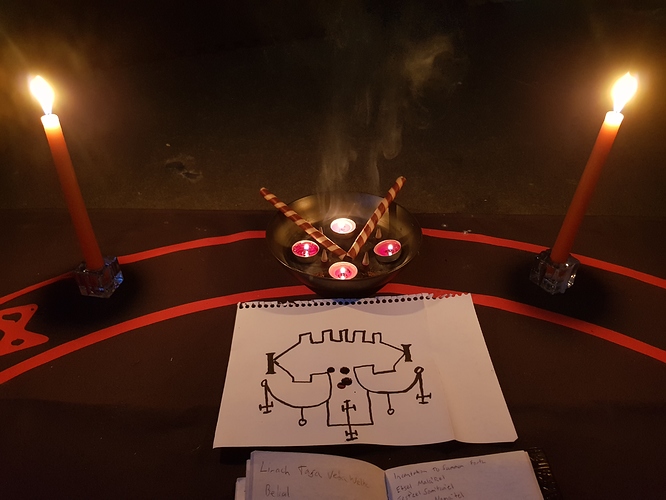 My offering bowl included
2 x Chocolate sticks
4 x Frankincense incense cones
4 x Red tealight candles (as I'm told he likes red)
Some tabacco
The basic ritual;
I sat in my circle with Belials sigil, his enn and an incantation that EA Koetting gave.
I lit two orange ritual candles and I began to chant his enn.
Almost straight away I felt the air dampen as if it had suddenly become hot and humid in my ritual space, so I continued to chant his enn and recite the incantation.
I did not hear nor see Belial, but I did feel a harrowing feeling that something was listening, so I told Belial the basics, not wanting to cause him to wait around and listen to a sob story.
I asked him to remove these colleagues from my workplace, as I feel as a slave would working with them.
I listed a set of things I would do for Belial if he could follow through.
I left the incense to burn until finished and left the bowl atop of his sigil on my altar at the end of the ritual.
I will update as soon as/if anything happens.