While I'm worked with Lucifer on the Astral plane today, near to the finish of it's, suddenly I've noticed an another figure appearing next/behind Him from the "Dark", and based on Lucifer's and His reaction, it looked like They're knew each other very well. I just stood before- and watched Them.
I've took a look at this new Person, then looked back to Lucifer like: "Whats happening? Who is He? Why is He here?". I felt myself a "bit" confused under His (not Lucifer's) inquiring look, and He was silent…
Lucifer smiled lightly - He was silent as well -, then looked back at this Figure, who has a confident, mysterious grin on His face at that moment, then He vanished.
He looked like: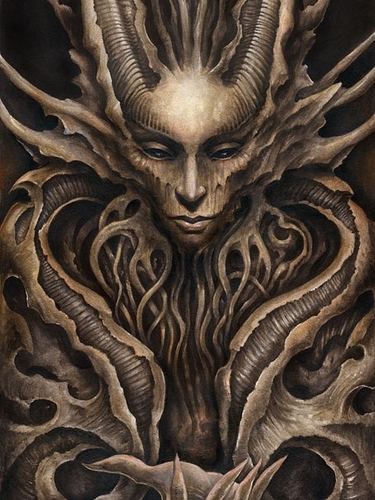 But with long, black/or very dark brown hair, white skin and red eyes and horns.
He weared something… leather-iron like, "light armor/robe".
I don't really know, who was He.
Any ideas?