Right ?

Love that kind of cats, they are just gorgeous
Just remembered something from last night, a message talking about how far I've come, about my path. I barely remember it, but it was something close to that. I hate my bad memory

Also, some mirror hour, 11:11, 11:11, 22:02.
I appreciate working with herbs and such, still a beginner on that path though.
First attempt in making black salt, easy to make but I like it. Didn't really follow any recipe, just went with what I thought would work the best. My bedroom now smells like burned herbs and other goodies that I put into it, lovely, can't wait to have my other room finished so I can't move all my dark-esoteric-herbs-rituals-occult stuff in there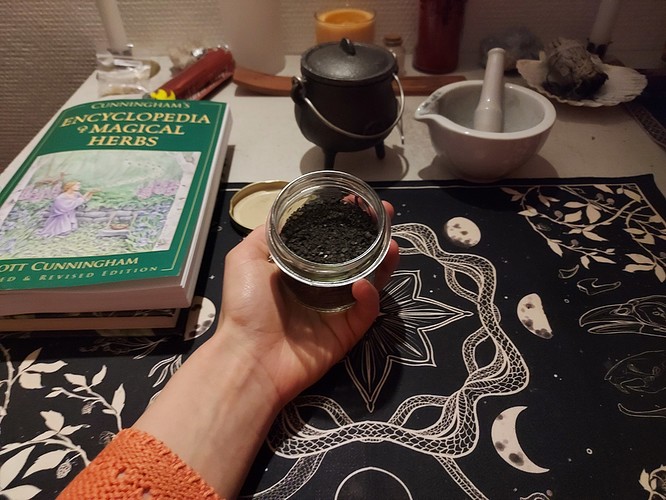 Nergal has been on my mind since few days/weeks now. He did reach out to me in a weird dream a bit after Belial, but I never really intended to work with him. But now, I feel quite drawn to him and I have no idea why.
I don't know what to think of all of this anymore honestly, my mind is trying to find a sense in all of this but can't see anything, I should probably stop questionning myself so much but uuuh, it's hard !
Like I started from a point where I had no idea about magick, demons, gods and all that stuff, and within a few months I got contacted by 4 different entities. What am I supposed to do with that

2 are demons, and the other 2 are gods of death/underworld, lot of fun in there.
Yes I would love to work with all of them, but even though I want it I should take it slow. Still a beginner, and I know it is not a good idea to jump right in it so what the fuck should I do, keep them in a corner in my head and wait to be ready ? Why did they even contact me, like didn't they get the wrong person or something ?

Just thinking out loud, I needed to write my thoughts on that matter because why not.
Not long after I got started with Hecate, Belial decided it was time. We don't always choose the who and when

I guess you are right on that one
You can say no, but I've found it to be quite rewarding. They generally don't come without reason.
I mean they probably have a reason, but I don't see it at all


Its just doesnt make any sense to me for now
Alright hold on, there is something happening right now. I made a thread not too long ago, to know if it was possible to have an entity helping you kinda behind the scene, like without you asking for anything, because a lot of things were going quite well for me. I am wondering the same thing again.
Why ? Because I was thinking about something, doing a ritual for a precise reason (it's been what, one or two weeks I have that thought in my head), and I am ALREADY getting results, getting what I basically wanted, but I didn't do anything yet !
Like what the fuck ? Is it me, who is manifesting really hard what I want and I get it almost instantly, or is there something acting for me ? I am so, soooo confused. Happy, but confused.
Still do the ritual, though. You'll see this happen from time to time, where the result comes before the ritual.
Oh really ? Never heard of it. But yeah I was still planning to do it
On a side note, it is 3 AM, just woke up for some reason. Had a dream about Nergal, and like the last time I had one about him, it feels so hot in the room.
I do not remember the exact details, but someone annoyed him in my dream. I remember him saying that I am meant to be in the darkness and I am attracting them. He also said something like I do not have to contact them back, like its not an obligation.
And I know why he said that.
Today my mom has been complaining again that her intestines were hurting a lot. It's been 2 or 3 days it's like this, so I proposed her that I try to do something about it. She accepted gladly. I am not experienced that much in that area but I still wanted to give it a try, I don't know why.
She got on her bed and I started putting my hands above her belly without touching it. I tried to sense where exactly I would feel something the most, and that was on her right side. I had the thought of calling Raphael to help me in that situation, so I did.
I wasn't sure how to do it, so I kinda went with the flow, trying to feel her energy and taking her "pain" in my hands. At some point my right hand started doing cirles clock wise, like I wasn't really controlling it. The movement continued for maybe a minute and stopped.
After maybe 10 mins I decided to stop our session. She didn't feel any difference, but said that she felt a bit of heat. I got up and was about to leave, and she started talking about her dream of last night. So from there we talked about why her dreams are always about the same things, which are her house, car, or bag. Always. We were trying to find the reason, she then started talking about her mother. Saying that she never cared for them ect…
I mean she often talks about her mother, she has huge issues with her, but this time was different, I don't know. It's like a gate got openned, and everything inside started coming out.
We talked for around 20 mins I think, even though I was just mostly listening, her lying down in her bed and me just sitting next to her.
Will see if more happens later, but that was definitely something.
Little update on the above, she actually fell asleep right after I left the room, for like 2 hours maybe ?
Not sure if it means anything
Had that video pop up in my recommendations on Youtube. I haven't listened any musics of Green Day since a long time, so it's a bit of a surprised. None the less, I still like it.
Seems like I am not totally spiritually deaf. It's been a while that I sometimes get messages in my mind, either a name or a simple sentence. But it's still hard for me to dissociate what comes from me, and something else.
This morning, while I was preparing to go to work, I passed my altar and I just had the thought to give Belial some whisky (which I bought few days ago). It was a strong message in my head, so I was like "Alright, I get it". So I kinda rushed downstairs to get a glass, and back upstairs to pour some whisky in it.
It can seems a bit "normal" for some people here, but for me it is not, I am far from being used to it.
I will write that down before I forget. Had a strange dream earlier, it woke me up at 01:01 am.
In my dream I was on a battlefield, I had a kind of staff/wand from Metatron, a gift, that I used to teleport someone important out of there. And so I close the gate (I remember myself saying "And mote it be" while closing it) and Metatron shows up. And so we walk a bit together, he says few things I didnt quite catch, talked about his attribute or I don't know, and he said something like that I can belong to the good and the evil at the same time, and that I can either do extremely good things, or extremely bad.
It is also the first time that a spirit takes form in a dream, they usually are just smoke, or I just dont see them.
He had a humanoid form, reminded me of how angels are pictured on the angelarium oracle. He was also super friendly with me, a bit too much to my taste.
I appreciate your honesty and candor, Mei. We need more.posts of people laying it bare and you are absolutely doing just that.
I don't recall saying it recently, so if I have, let me know and I'll delete this

I've thought it several times.
Thank you, I appreciate it a lot ! Well I am trying to stay honest with myself, and talking about those things on a forum helps me build my confidence a bit more.
And no you didn't, so don't worry
I didn't have a forum like this when I was starting out (home internet wasn't a thing for over 10-15 years, tbh). So I appreciate it. Please continue.