Hey Guys,
I was inspired with this idea by Lilith after showering. I was thinking about the Seals of Solomon, and realized there were NO Demonic Seals whatsoever. I kept having the Idea, "What if I could Invert these Seals and use their power for Black Magic?"
Initially, I didnt know how to substitute the Godnames into Something Less Abrahamic, but now i do hehehe.
These Pentacles which i will be making are designed to be:
Extremely Powerful (Similar to the Enochian Tablet of Union) and Will Work REGARDLESS of the Current State of your Astral Senses
You wont need any Oils to consecrate these as they will have already been consecrated.
Are Consecrated to Lilith and Each ArchDemon in her Sphere, Gamaliel
Is Empowered by the Corresponding Demonic Army; In This case, Schimirion, For Example
Each Will Connect you to the Respective Sphere of the Qlippoth for Various Puproses
Will Be Charged in the Correct Planetary Hour
(In this Case, Luna. The Moon)
The First Pentacle of Gamaliel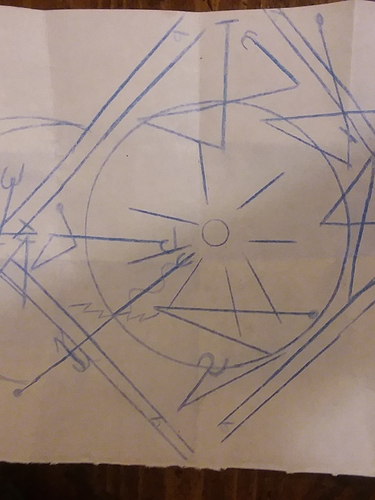 This Pentacle is For Opening and Empowering Psychic Abilities (Regardless of The Current State)
Bringing you into communication with Lilith
Bringing you into Communication with The Six Archdemons under her (Gadaphel, Maarabel, Lachashel, Iatsathel, Avvahel, Layilel)
Will eliminate Psychic Attack against you and naturally empower your Aura.
Notes: Lilith Has Been Evoked and it is charged with her energy and blessings.
The Demonic army she rules over (Schimirion) have been evoked and have charged it and blessed it as well.
I also charged it with My Own energy and blessings
Because there Are Six Archdemons under Lilith (that we are currently aware of) there will be Six Pentacles for The Sphere of Gamaliel. Then i will move on to the Next Sphere.
Use it and I hope you guys enjoy your late
Christmas gift!
Extra Note: The Correspondences for the ArchDemons were found in the Book "Liber Sitra Achra: A Grimoire of The Dragons of The Other Side"
Extra Extra Note: The Correspondences for The Demomic Armies were found through Google
Last Note, I promise: I will put these on wood so as to make it more Proffesional.
Sorry, I lied: The Sigils of The Archdemons look similar Because I used the Rose Cross method to get them, instead of making original ones.