He's trying to get in contact with me so I wanna know about him.
Hello,
I'm am going through Asenath Mason's Qliphotic Invocations and Evocations. It's a very good source of information, both a theoretical and practical.
From my experience, I can tell that he takes the energies of a material plan, has a very important aspect of one's initiatory force. As a dangerous and powerful spirit, working with him shouldn't be taken lightly.
My advice would be to do more researches and good preparation before you start to develop any kind of connection with him.
If the connection with him has been done properly, especially in combination with Lilith, the results would be very rewarding, such as personal liberation from material boundaries, sexual limitations, and reveal the mysteries of mastering astral projection, among many other things.
I'm sure there are other sources of information about Samael, but whatever you find, take it with a grain of salt. There's a lot of misinterpretation because of his long history and many traditions where he has a place.
Good luck!
I am pursuing a relationship with both Lilith and Samael with also The Leviathan. And I will be purchasing Asenath Mason's materials on this subject. As you stated and I'm in agreement there's a lot of dis/mis-information out there, so other than Asenath Mason's materials do you have any suggestions?
@DragonPhoenix777
All I can think now is Thomas Karlsson's books, but can't say for sure which one. Maybe Qabalah, Qliphoth and Goetic Magic.
Thanks I'll definitely look into them.
It won't be a waste of time

He's dangerous, but he's also incredibly nice. That sounds so childish… I could be biased, it won't be wrong to say that I have grown fond of him
My experience with him has not been the best. But mostly, it's my own fault and I know that.
He can't stand weakness, so don't expect yourself to be babyed by him… Lol
He gives me instructions and I must follow them, most of the time, I ask why are you telling me to do this? And get no response

So yeah… nowadays it's seems he's busy, but In the beginning, He made me work like a slave… gosh.
He's great with energy work/vampirism. Sometimes he appears as a warrior. He seems to like strongly brewed coffee, and earthly incense like oud/Bakhoor.
I do respect him, let me make this clear. But be careful of whatever you say/think. He takes things seriously. So once you commit yourself to something, don't back out. It won't end well.
Indeed; I've heard that he can be a tricky spirit to work with. I plan to work with him one day, especially; once I reach Gamaliel both; on my own and in the Qliphoth since I'm working with that system and directly with Lilith. He's said to be the male interpretation of both; the serpent and Kundalini while Lilith represents the female asset of it. It's also said that he's the dark aspect of Lucifer. They're in some ways you could say, twins. As well as with Samael being another one of the many masks of Lucifer like Azazel. With him representing the darkness and Lucifer representing the Light. There are times that I've read in Asenath's books about him is that he's sometimes referred to being Death or the Angel of Death, but from what she's told me also that working with him can just be rewarding just as much it is working with Lilith.
He's tricky, yes… I can confirm that from experience
My kundalini has been in the process of awakening since I started to work with Samael…
I'm still struggling to find the truth myself, sometimes I think they are twins, sometimes that they are aspects of the same being. Sometimes totally different. It's confusing.
My kundalini has been in the process of awakening since I started to work with Samael…
Did anything change when your Kundalini was awakened? I ask because I think mine was awoken in a different matter by Lilith. It'll be like 5 years this coming March. I think when I discovered the truth about Lilith, she heard my souls cry and gave me an awakening. I noticed then that a lot of things changed with me. How I ate, how much weight I had to lose, how I wrote, (which really shot up as people have said that I write very well), my view on Christianity, etc.
@DragonPhoenix777, @DavidSmith,
Is thus what you were referring to from Karlssons book?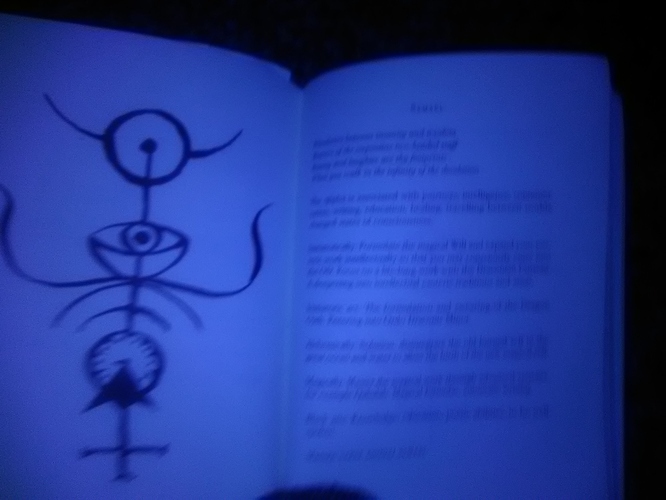 I haven't gotten around to researching his books yet. From which is this from?
It is from a great reference book called "Qabalah, Qlippoth, and Goetic Magic", by Thomas Karlsson.
Thanks. I've been referred to that book a few times. I'm going to get it now.
Page 179. Read pages 114-126,153-161, 174-179.249-252.
Incense, mantra should induce an altered consciousness, and the sigil should flash/open.
It hasn't awakened yet, we are still working on it… as for other changes, I can't say anything yet…
How's Lilith like by the way? I haven't worked with her yet, though I have been introduced to her by Samael
I guess there are different editions. This is not what I can find in my Karlssons books. There is only one chapter on pages 119-122.