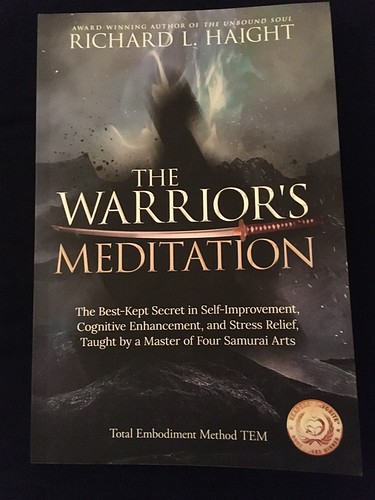 I read about 1/3 of this book before thinking about doing a journal. and for the last 2 weeks I have been doing other things -like learning how to summon the Kendall devil
. I'll put down the exercises and results, but if you want all the info you will have to get the book yourself. I ordered another book from this author soon to arrive.
Summary: The samurai may only have a minute before the battle begins. They may only have a few seconds before the next attack. How did the samurai pack the benefits of a full meditation into such a short time? master of 4 samurai arts and his Sensei set out to rediscover the lost art of samurai meditation. after much research and testing they now bring you this book…
exercise #1.
point of exercise: is to make sure that you know what alpha state feels like.
directions: set in a comfortable chair, set a timer for 15 min. close your eyes and concentrate on breathing. If any stray thoughts come into your head, let them go and go back to concentrating on breathing
results: wow haven't had that particular sensation in a long time - as if my mind is expanded and relaxed at the same time
exercise #2.
point of exercise: to show that there is more than one way to get in alpha state
directions: [valsalva exercise (people with h.b.p.,heart problems, or other serious conditions should consult with their Dr. before doing this exercise)] set in a chair without a back, breath in deeply and stretch out your lungs as comfortably as you can. Casually breath out however makes you comfortable. From your experience in exercise #1., you should be able to recognize when you enter alpha state. If you are relaxed you will be in alpha state in 2 or 3 breaths. If you are stressed it can take 6 or 7 breaths to enter alpha state. https://richardlhaight.com/vagal . If you don't notice any change after 6-7 breathes, you have a blockage that is probably causing you serious health problems. You need to spend some time to address the issue ( doesn't say how… and it says some people can't achieve alpha state by this method
results: hmmm I always feel relaxed after deep breaths. Who doesn't? If I do it 6 times I probably wont want to breath for a few seconds. relaxing slowing my heart down, but I dont think it feels like alpha🤷🏼‍♂️