Oh lovely

I'll have to take pictures of all my stuff to post.
Here's my other rings on my other hand.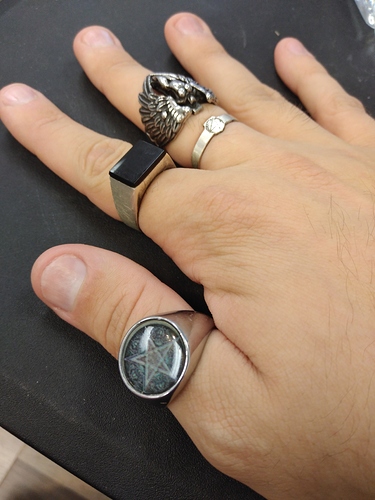 Later I'll post a picture of my necklace with all my pendants.
Everything is consecrated.
Very nice rings man!
Next to your pentagram ring, an Onyx stone?
Yeah, it's the only somewhat expensive ring tbh. Silver with onyx. Consecrated for protection by the 72 Goetic spirits that I bound to the other ring (the small one that I normally wear nested under the angel ring)
The pentagram one is consecrated to unground and facilitate trance states more easily (for convenience)
The angel ring is being used in my angelic operation that I'm doing.
The small ring is the one I bound the 72 of the Ars Goetia to during my Goetic operation that I finished a while ago.
Thanks for putting the links of the workings where they're used for in your post!
I know people aren't always a fan of inline links, but I figured the relevant information would be appreciated. I'm glad you were interested.
Yes it is, especially cause you give us insight in how you use your rings magically and the motivation!
The cauldron is a rebirth amulet…I was going through a tough time and I really was feeling like I needed some change…the red stone baphomet pendant was my first baphomet pendant I had received and my mother and I have matching ones, along with the black and silver baphomet pendant. I wear them every time I do a ritual. The tree of life pendant is made of rose quartz and when I saw it, it really called to me, which was weird because I have never had a piece of jewelry do that. I keep them together because I lose everything.
Very beautiful!
I'm wondered to finally see these pentagram designs in another colour than silver tbh
Thanks! The black and silver baphomet used to be all black, at one point…whatever paint or coating the retailer had on it came off, sadly.
Thank you Iris i'm glad you like it
Made as part of my Gatekeeper Working. Consecrated and dedicated to Lucifer. I had originally made it with copper but this morning I replaced that with silver.