THE EVOCATION OF CORAN
Bringing to life the magickal worlds of the elements is a lifetime process, and achieving your desires through their assistance never ceases to bring the amazement back into my life.
From the time I was initiated into the Gardnerian Wiccan tradition and further down the rabbit hole with the Thelemic OTO in London back in the late eighties, the idea of summoning one of these beings always invaded my consciousness with colorful characters of Greek and Roman cultures, and recently, with Ethiopian mythology and the interconnectedness of these and many other civilizations forming the bedrock of a once thriving world filled with worship of these powerful god/goddesses. However, my "mentors and initiators" continued to insist that evocation is best performed by those who have prepared themselves through rigorous years of study and practice. There is truth here but also some common flaws that I am sure you are aware of by this time.
During my pact with Sastan, he was able to teach more about who I can "become" if only I place my preconceived notions about magick to one side and allow the real magick to enter my life. Letting go of what you feel or believe to be actual magick is a daunting venture, for all magicians seem to have the biggest chip(or perhaps the very large and heavy Duracel Battery) on their shoulders. Forever carrying their own mantel of what is and what should be. Magicians are emotionally bonded to their own particular belief system. To update my own definition of magick…
[i]"Magick is the emotional state of a true and complete act of manifestation"
Perhaps this definition lays well with the act of evocation, but I see the above encompassing many facets of a magickal act. The emotional state of mind and being within the magician is crucial for any successful outcome, be that good or evil. If you have no control over your emotions then they in turn control your outcome. This is only evident by simply gaze at your own life through the looking glass and see where your station is at the moment.
I have always wondered why "some" evocations work while others appeared a failure, why when I created an amazing Jupernian Talisman for days to obtain a specific amount of wealth only gave me partial success. It seems that my own true self was in a chaotic state, randomly manifesting certain magick full-blown while others a complete disaster.
About fifteen years ago I found at least one answer in the form of psycho therapy. Exchanging certain dialog with someone that is at least mildly conducive to a magicians needs was quite difficult back then. However, I was lucky enough to find such an individual.
Taking a discovery to learn about who you really are and what you are made of is fascinating and very useful. Of course, not all of us have the time nor inclination for therapy. This individual was able to pin-point my flaws and "emotional baggage" that I was carrying around my neck like a rusty old heavy chain(think the Devil card).
Holding on to dear life those dead shackles is a human trait that allows us to feel a certain need or want to continue the previous experience we had that may or may not have impacted our personality to this day. For me, I was carrying so much baggage that it was no wonder my state of mind was randomly producing external events which I either never wanted and/or never called forth.
There are,I am quite sure of, countless ways magickal and non-magickal to be rid of all emotional baggage and psychological personality flaws within the magician and I have found one possible way through evoking a certain fire elemental spirit that has not only "cleansed" my mind,body,and soul but has also, as a result, allowed me to further improve my ceremonial workings on a daily basis.
Coran was introduced to me through Sastan while working a pact with him for several weeks. Keep in mind that when you summon any being you can always ask for more spirits to assist you by just asking that one entity, however, for reasons unknown he provided me with about twenty-five fire beings that have kept me busy up to now(not to mention working with the other elements,including spirit).
Coran appeared to me through the high flames of manifestation while evoking Sastan daily. Her appearance is regal with a voluptuous body. She appears naked from the waste up and her skin is completely black and feels (to the touch) as if rough with a black powder feel to it(yes you can touch and feel spirits. Watch EA's video course and understand this phenomena). She is bald but wears a golden crown upon her head. Around her neck is a long bold necklace with colorful jewels. Her wrists are also covered in bracelets. Her eyes can see right through you as they are quite bright and awakened. When she first appears to you , you will be compelled to grab hold of both of her hands while she "heals" you.
She is perhaps one of the most friendliest fire elementals I have had the pleasure to meet. She can quickly resolve any distempers you may have. Her basic task is that of emotional healing(not physical healing) however the emotions are tied to the physical so in one respect healing one may heal the other. I was able to find out a little about her background through Wikipedia. It appears that she may have been some type of Ethiopian deity once long ago worshiped, and her influence may have some intertwined with earlier Greek cultures.
Some recommendations in evoking her:
BEST: using fire as a manifestation base - indoor or outdoor
GOOD: A Physical evocation without fire
MODERATE: an astral evocation by scrying mirror(not recommended)
The silver dish and ornate metal holder that I have continuously used in my rites can be found in my other posts. They were found at a Goodwill store for only five dollars. Use you creativity and devise other methods to use fire within your temple in a safe way.
Below is her sigil drawn with Corel Painter using thick markers as a simulation. I made this at 600x700 for printing so all you would need is to just click the image and print. However, I always recommend that sigils should be drawn by your own hand. Its up to you.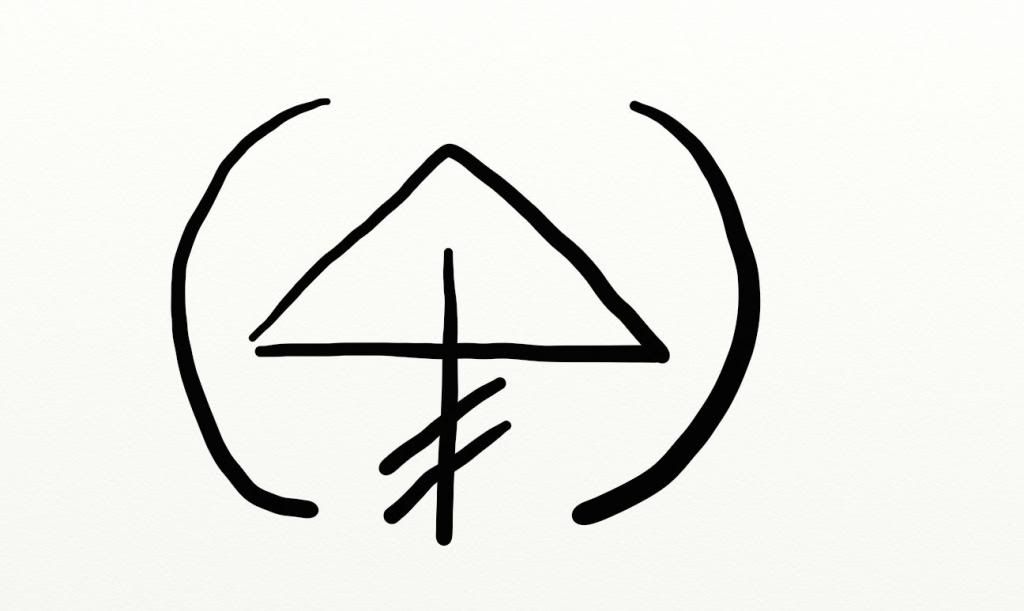 Here is a quick sketch I did of Coran as she appeared to me.
In the following weeks I will post more fire beings that I have personally evoked to my satisfaction with results, from fire familiars to temple guardians, from treasure hunting fire beings to the most dangerous fire elemental that should never be evoked.
May the gods and goddesses bring that which you are seeking…