One fine evening, I was working with Belial.
When I thought the communion was complete, and just about ready to wrap things up, Belial told me to wait, and that he had a visitor for me to speak with.
He introduced me to a spirit that he referred to as "the Akkadian" and took his leave.
The Akkadian's speech shuffled between gibberish and comprehensible words. One word that made it through sounded like "Markus" or "melkis". His appearance, in my mind's eye, was very much like this guy: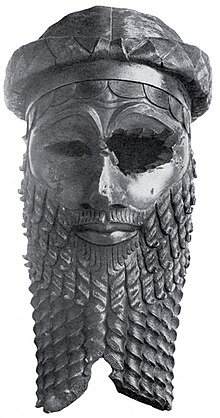 Another bit that I caught was "You are a scholar. Who seeks to rend my bones?". Although alternate words for "rend" came to me; betrays or defiles.
The image above is Sargon of Akkad. The word "melku" means "King". Which seemed to fit. This didn't feel like a demon or an agent of one. It felt like a thing that was once a man. But certainly powerful in his time, and almost certainly a ruler.
Markus, as it turns out, means "of Mars", or March. This whole thing happened in March. Furthermore, "of Mars" would certainly fit Sargon. He was an unstoppable warrior who created the Akkadian empire.
If anyone has other ideas on who this dude might be, let me know.
Also, I'm still kind of rolling his riddle over in my brain. I'm not sure of the purpose of solving the riddle. Or, maybe this is one of those weird things Belial does where he gives the magician a stupid task, hoping to see pushback?
Thoughts?