That reminds me, I found that meme after evoking KP. maybe I should work with Amon, any experience with him?
Not much with him, unfortunately.
TMW formally known as arianna.
Tmw chilling in a outdoor jacuzzi as I contemplate the nature of the universe in relation to self, surrounded by beautiful women.
I'm no ascended master but life is pretty wavy right now.
Well I laughed. … considering sex bores the fuck out of me
Or Im just a fuck up
That's just because you haven't had good sex.
You missed when I was talking about the dickpill…
Yeah. Lol. I warn people that I m a cold hearted bitch. They don't believe me until its too late
You seem cute and cuddly tho

Holy fuck this took me nearly two hours but I am so happy with it I need to show it off. Beelzebub sigil from Grimorium Vernum burned into a wooden plaque.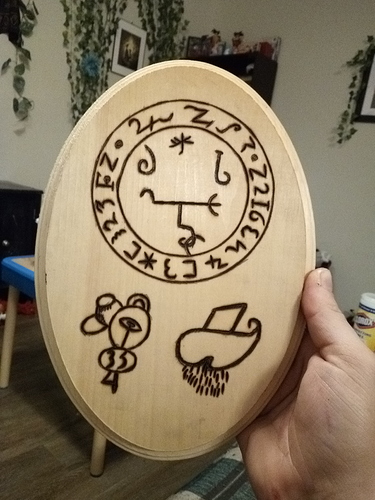 Dick pills? I am slightly scared to back read after reading this title change…
@Banjax That's super cool bro.
As I explained before:
Taking the dickpill is where you just stop caring and turn into a cynical ass, neither happy nor sad, just a dick.
Or it could be Viagra I guess?
That is less terrifying then I thought or my mind is just in the gutter
Why not both?
We are all a bit fucked in the head here, so you shouldn't worry too much.
In any case, it's late, so I'm gonna go to bed.
Confucius says life is simple but men make it complicated
A hundred hugs. Thats great work