Tmw you are observing the Flow of The Death Current and time seems to stand still.
Then one of the Death Gods says,
Even when something appears to be standing still, it is always moving. You are simply percieving it from outside the Time Stream and therefore all motion appears to have ceased, which brings the illusion of Stagnation or Death
Ah, yes. Time stands still.but stops for no one.
Tmw im refresh out of a shower
Makes me want to bang my head against the wall
It is even more interesting when one observes from a cyclical perspective instead of a linear one
TMW Belphegor surprises you by being very adept at cleansing and reinvigorating energy work. The purple flames involved were interesting though. Didn't expect that. But I feel better now than I have all week.
I had a glimpse of that earlier with Saturn
Very Interesting
Newb friendly as I ALWAYS will be, big hell yeah on that.

It really has the effect of diluting good advice down to nothing.
Gray sky right now in my area
Tmw jeff dunham is to funny
I ain't no snitch.
Will do.

Lies–there can only be one. Now show me the infidel foolish enough to challenge my crown.
I wish there was only one. Feel free to start lopping off heads
TMW slitting your finger open while opening a wine bottle. Happy little accidents leading to happy little pacts.
Tmw someone has a pact with Bob Ross.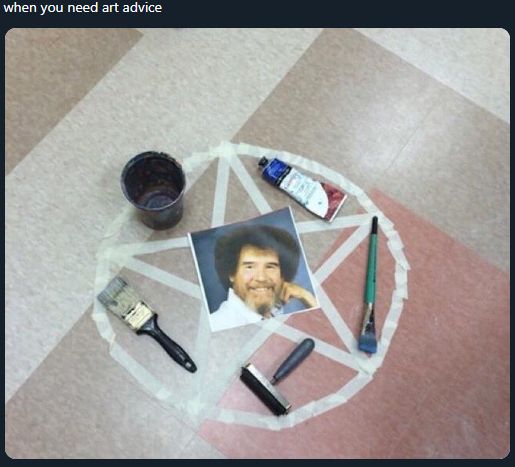 Tmw when the lower world opens up to you.
Tmw someone invokes you and nearly pulls your consciousness right out your body. Her first attempt too, pretty damned impressed