Is there a type of spirit that will mimic voices of people you know? I had lived in the same house for seven years and then had a couple of what I thought were auditory hallucinations. Started off with hearing my name said loud as day, footsteps, hearing "hello" before quickly discovering I was home alone, to what sounded like my mom yelling at me upstairs. These experiences stopped after moving out.
Also, is there a spirit associated with the smell of rotting produce or the taste of moldy bread? They are random and only last a few seconds, but they're driving me nuts.
And am I imagining this or did I sense a spirit? Took this photo last October when my I walked into my kid's play room, my throat suddenly hurt. I sensed something hostile in front of the window and felt like I wasn't supposed to be in there . I took a photo before leaving, but couldn't see anything. I adjusted the clarity, shadow, and hue to find something that looks like a face. Are my eyes playing tricks on me or did I manage to take a picture of a spirit?
Edited: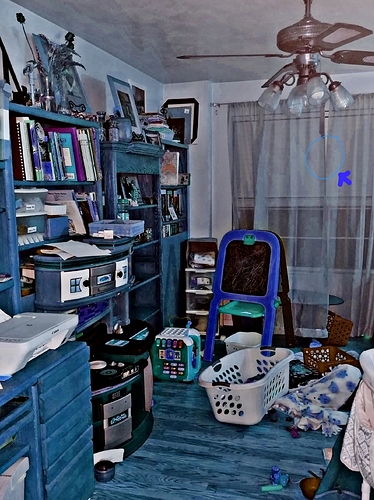 Sorry for rambling.