The thing I heard was that the first time that this name was found was in a Templar document. When the the person or persons with document spoke about it, after be tortured I suppose, they confessed that it was about a goddess, with tree faces and/or a lion face. Many think that they just said anything to get rid of the tortures, others say that this name was actually a mistranslation of another name, a prophet name I guess. Anyways the goat head would be later implanted by Levi.
Now the thing I find interesting in this origin theory is that the goddess that have tree faces is Artemis. And there's a guy from old times of Greece and I forgot his name but he was one of those philosophers ya know, and he for some reason had connected Artemis to Baset who is a goddess with cat head, but some believe she used to be represented with a lion head until Sekmet appeared. So Artemis kind of fits in both description of Baphomet. Also she's twin sister with Apolo who many believe be Lucifer.
All this theory didn't came from me. I found in this site and there was this long text about the dark goddess, pointing out this theory. I thought made sense, I tried search more about it but couldn't find much.
Pronuntiation:
Ol sonuf vores gi goho vovin vabezodir
De tehom qadmon
Zodiredo el iaida des parafe a lil
Zodiredo ciaofi caosgo mosplehe teloke
Panpir malpiregi caosgi.
Zazas Zazas nasatanada Zazas
Agios ishyros Baphomet! Agios Athanatos!
Chao ab Ordo
Baphomet is being illustrated -Taro cards, he represents 15Arcane, (the Devil card) and
I was told he can be helpful in fixing fertility issues
Where can I find true sigil of Baphomet? Anybody can share? And another questions, what does he/she likes as offering? I was told about gin mixed with red wine over black peppercorns… not sure of gin though… anybody who can share your experiencesof offering to Baphomet - thanks in advance)
There is also the Abraxas IAO Baphomet
Eucharistic mass with Lashtal as mantra
Is extremly powerful!!!
Thank you much! For the sigil and suggestion. Will look that up.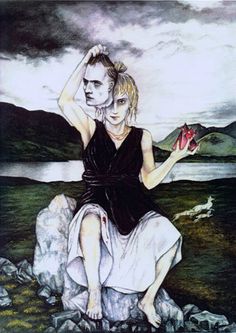 "According to Dark Tradition, Baphomet is a sinister acausal entity, depicted as a mature, human woman, naked from the waist up, who holds in Her hand the bloodied severed head of a young man. She is the dark, violent, Goddess - the real Mistress of Earth - to whom human sacrifices were, and are, made." Taken from The Sinister Tradition, Grimoire of Baphomet, O9a