So this is the first time I Evoked Lucifer, although He has came to me before without needing to evoke him but i evoked him in order to ask some questions and to also spend some time with him, I'd love to share my first experience with him.
• I prepared with taking a bath and wearing my ritual black robe.
• Light the candle, incense.
• I recited his enn while meditating on his sigil and I felt a strong presence in my temple. I saw lucifer with my minds Eye, he has appeared before me many times in this form but without wings.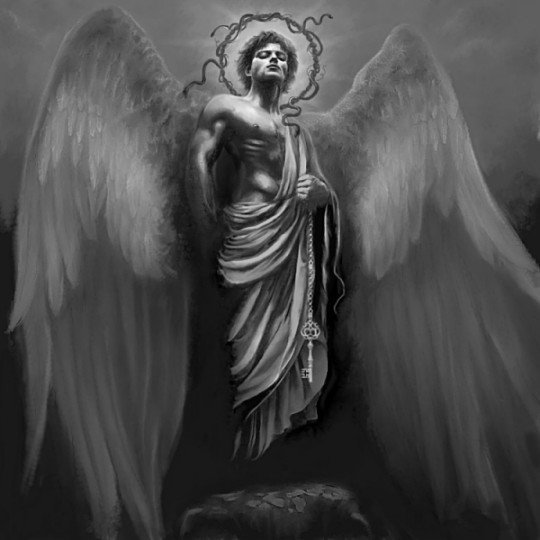 • I welcomed him in my temple, I said ' I welcome you mighty Lucifer in my temple and I am honored by your presence'
I got no reaction from him, just a serious face staring at me.
• Then I asked him ' To protect me spiritually and physically I also asked him that I am using a Angelic method of protection. Am I worthy of your protection while working with angelic protection?
He replied ' There is no problem'
• I am here to ask you some questions, May I?
He said , ' I allow'
• why everyone calls you lucifer? Is that really your name or something else?
Lucifer replied, 'Many people remember me with different names and Lucifer is one of them'
• Are you always this friendly with everyone who evoke you?
Lucifer replied, 'it depends on what aspect of me you are calling forth. I carry both Lightness aswell as darkness.'
• Is this your real form if not, what is?
Lucifer replied, 'Now that you have called me to answer. The form that you see and many others who evoke me aren't my real forms. My real form is beyond human imagination.
• How to make a strong connection with you?
Lucifer replied,' That is simple. If you feel love towards me, connecting and meditation daily would form a good connection.
• What would you advice me and all the others on this spiritual path to ascend?
Lucifer replied, 'Explore other systems of spirituality do not stick to one and practice so that you reach your desired goal.'
• I thanked him for providing what I asked. Gave him a offering of Olive oil even though he said he likes coffee more. Will surely give him coffee when I will evoke him another week.
The energy felt really different in my temple. I hope you all can feel it. Here is a picture of my Altar after the evocation.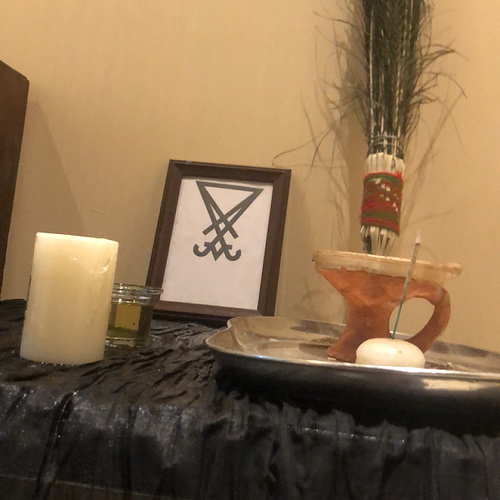 My mentor has advised me to evoke and meditate with Lucifer every other week that means two times a month? Do you all recommend any questions that I can ask him on my next evocation that will enable my spiritual progression?