Does this hug need to come with a safe word?
Maybe so. My mom called me out yesterday for something really similar to this.
No, I'm being serious. Like, hug.
Is anyone willing to give me a reading?
I can read whoever reads me.
You have already made 7 posts except for the one that is required of you. Before asking anyone to scan you, you person we don't know, please post an intro in our introduction thread as is required.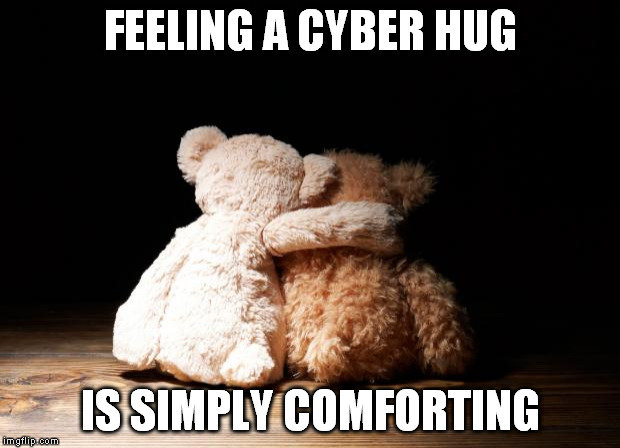 I have definitely talked to him a couple times recently.
I'm not sure why they are so reluctant to give names. Lucifer makes sense, though I have no idea what he looks like, I've never seen him.
I'll try take a screenshot for u next time.
What I get when I read you:
I see someone sitting at a desk in a dark room. They're extremely stressed and annoyed. Then, a guy walks in a places a rose on top of a letter, that was on the desk. He kisses the person on their forehead and smiles at them. He relieves that person of of stress, but there's still some left.
I'm actually sitting at the moment. Both u & @Micah got that. I'm pissed off about something and also worrying about something else too.
@Narsonix When I tried to read you, I heard a low male voice slowly say "Maarrbaass…" Lol, then, when I typed that, someone chuckled and said "She's got you pegged." Well, I don't know if you work with him, but he's definitely around and talkative.
Anyway, I see a vision of you smiling at a small fairy. They seem to be glowing with bright and beautiful energy, and you seem super fascinated by them. Maybe there's a fairy around you as well, then? They seem super curious about you, too. Also, they look and act kinda cute, too, in my opinion.
I have no idea about the fairy, but Marbas's name has been in my head today.
@anon9236988
I heard a woman laugh and i saw this woman dance around a pole in a joking manner. This woman seems very loving but not blatantly sexual.
The woman just said, "I am her."
Go for it, I can return in a while.
Alright cool. I will begin reading.
I see someone sitting in a chair with their legs crossed and they were drinking water or some clear liquid from a wine glass. A sort of high society air about this person. Not a pompous sort of air but just a vibe of being kind of like royalty or something like that.
Lol, yep, that sounds like me alright.
What I get from reading you:
I heard King Asmodeus's name pop up in my head. Now, this part may be random, but the numbers 4 and 7 pop up in my head, too.
Then, I see a vision of you sitting in a meadow, and the grass is a very pretty and vibrant green. I see you wearing a short, blue dress with no shoes on. You seem to be really enjoying the nature, so that's helping you ground and keeps you level-headed for sure.
A yellow and black butterfly lands on your finger, and you look down and smile at it lovingly. You lift your hand up higher and send it off. As it flies away, a slight sadness overcomes you, but you calmly say "Goodbye, little butterfly."