Your Ruthless Guide To Performing Demonic Money Magick For Unlimited Prosperity And Abundance… Here's My Proven Blueprint For Building An Infernal Empire From The Trenches As A Master Of Wealth
The Wealth Magick Spellbook features 2 grimoires:
E.A. Koetting – Black Money Magick
Conner Kendall – The Infernal Treasury
In our ruthless blueprint of wealth magick, you'll learn:
Evocation rituals to forge ironclad alliances with demons of wealth for life-changing prosperity
How I transformed from a homeless camper to a world-historic black magician with magick
My all-time favorite money spells for instant gain, career development, and unlimited abundance
Every sigil, talisman, and demon to unlock the gates to wealth in the Infernal Treasury
Order now and get as much as 62% off The Wealth Magick Spellbook, The Wealth Magick Course, and The Wealth Magick Ritual altogether.

---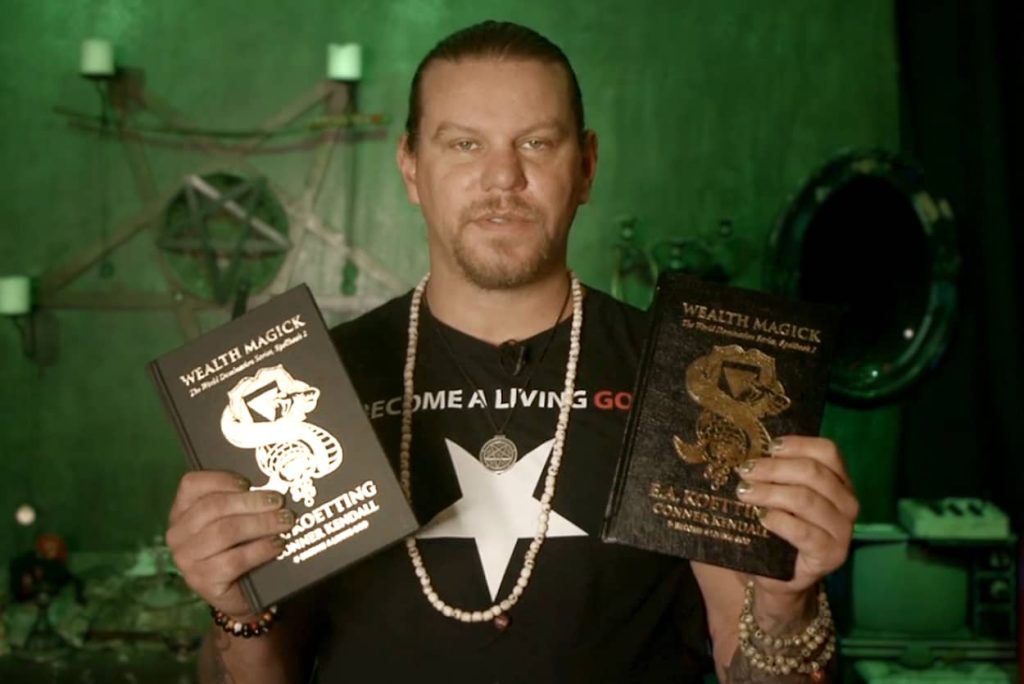 Dear Friend,
You have probably heard the classic proverb, "If I only knew then what I know now."
As I enter my third decade as a demonic black magician, I often ask myself, "What do you wish you knew when you were younger?"
It's no secret that I have always lived a blue-collar, working-class life. From child adoption to abusive foster care, from factory assembler to industrial cleaner, from apprentice to master in furniture finishing and paint styling, and more. In fact, at my lowest point in my young adult years, I found myself homeless, drug addicted, and camping in a cemetery — a definite fork-in-the-road experience that determined my future as a black magician who would "do anything it takes" to ascend.
Over the last decade, a horde of haters have tried to hurl the poverty of my past at me like a weapon, as if a negative inheritance was my fault. However, these privileged people have never experienced abject poverty. Therefore, they do not know that when a man fights to survive — battles against death itself — it hardens his soul and strengthens him. As a survivor, his past suffering becomes like a steel-plated armor that protects him from the cuts and bruises of superficial insults and temporary tragedies.
Despite my impossible childhood, as I entered my 20s and 30s, I suddenly found myself on a rise to unprecedented power, pioneering the modern history of black magick in real time, helping hundreds of thousands of aspiring sorcerers worldwide to awaken their godhood too. The active force of magick transformed my material life as a matter of fact — and it will transform yours too if you let it.
Unlock A Treasure Chest Of Poverty-Proof Money Magick Spells That Have Stood The Test Of Time And Thrived On Centuries Of Natural Selection By Sorcerers And Witches
You have discovered a poverty-tested spellbook that could change your life — I know their power, because they changed my life. The spells found herein have adapted and thrived across centuries of evolution in magick, with the best money magick spells proving the test of time and real trials. These, like most magickal teachings, have until now only been communicated orally or encoded in dogmatic cypher.
A number of my favorite spells that I present in The Wealth Magick Spellbook were taught to me directly from powerful hereditary witches, while I inherited other spells from secret lodges, and still more were gifted to me by the spirits themselves. All of the rites in this spellbook have been tested repeatedly in a diversity of material circumstances, and they have been forged in the furnace of the real world.
These spells are often quite simple, and I suspect that is the main reason that ignorant people dismiss the practices outright, because they are just "too simple to be so powerful." The human species has abandoned entire organs and evolved new ones in the most miraculous ways, and witchcraft has remained with us throughout the entire journey, accelerating and governing the evolution of humankind.
I won't try to convince you of your own omnipotence through logic and reason, however. Instead, I will hand you the very live fire itself, and it will become undeniable. Whatever situation you are in right now, it does not matter — these spells will work. Whatever your circumstances are, they do not matter — these spells will work.
Spellbook 1. E.A. Koetting – Black Money Magick: Spells For Prosperity & Abundance
"Can you hear that?" the Devil asked.

I listened, and just heard the sounds of cars and people and mundane reality. I dialed my attention away from physical reality and towards the subtle, but heard nothing other than the usual sounds.

Before I could voice my confusion, the Devil interjected, "It is the sound of the world, just waiting for you to take it."

— "What Is Holding You Back?" Chapter 3
Spellbook 1. E.A. Koetting – Spells for Prosperity & Abundance
Ch. 1 – Wealth Magick Mastery p.11
Ch. 2 – My Path to Success p.19
Ch. 3 – What Is Holding You Back? p.23
Ch. 4 – Money Spells for Instant Gain p.47
Ch. 5 – Spells for Career Development p.55
Ch. 6 – Magick in the Trenches p.79
Ch. 7 – Demonic Pacts p.87
Let me walk you through each chapter of my Black Money Magick: The Wealth & Prosperity Spellbook.
Chapter 1. Wealth Magick Mastery
Wealth Magick Mastery introduces the topic of Wealth Magick by getting straight to the nuts and bolts of it. Pseudo-magickal practices like the "law of attraction" and "manifesting" are deconstructed and examined as to why they don't work nearly as effectively and reliably as the tried-and-true witchcraft spells to bring fortune. Lastly, in this opening chapter, I establish the necessary perspective that must be maintained while pursuing wealth magick: that achieving everything that you need and desire is just the beginning.
Chapter 2. My Path to Success
In My Path to Success, I expose vulnerable details of my own history of learning to perfect these spells to avoid homelessness and starvation, giving me an advantage over academic occultists with all of life's comforts. Through this mini-overview of my journey in mastering spells for riches, I show you how I was able to increase my magickal yield from a meager extra $20 bill in the gutter to payouts of $30,000 and more.
Chapter 3. What Is Holding You Back?
Chapter 3 is called What Is Holding You Back? and it is all about blockages. Anyone struggling financially knows exactly what I mean by "blockage." Not only does the current situation seem to be blocked and unwilling to budge, but often we can notice a pattern of financial blockages that can make us feel like the universe is sabotaging our success. The exact blockages that I've identified and have found ways of neutralizing are:
Situational Blockages
Psychological & Emotional Blockages
Obvious Self-Sabotage
Ancestral Blockages
Past Life Blockages
Spiritual Blockages
I break down exactly why this is happening, and give you powerful counteractive measures to annihilate each type of blockage.
Chapter 4. Money Spells For Instant Gain
Money Spells for Instant Gain dives right into the heart of what this spellbook is all about. I give you step-by-step instructions and full ritual directions to cast Candle Magick Money Spells and Money Magnet Spells that would keep most magicians happier and richer than they could ever dream of. Not only do both of these particular spells work incredibly fast, but the Money Magnet Spell just keeps on working, seemingly without end.
Chapter 5. Spells For Career Development
Spells for Career Development takes a more mature aim at Wealth Magick and the generation of both material and spiritual abundance, opening the chapter with an Invocation of Bael, for the creation and expansion of your Infernal Empire and mine. I then give complete instructions for casting:
Sigil Magick Money Spells
Clauneck Rite for Career Development
Mammon's Talisman Consecration
Creation of a Magick Square for Infinite Wealth
Chapter 6. Magick In The Trenches
In chapter 6, called Magick In The Trenches, I obliterate any literary fourth wall as I take you deep behind the scenes with my social media shutdown, and how the very spells in this book are responsible for helping bring me and Become A Living God through a full-scale assault, not only still waving our black flag, but standing taller than ever before, our feet firmly on the Path of Prosperity.
Chapter 7. Demonic Pacts
Demonic Pacts discusses what has become one of the most taboo topics in the occult: how to make a pact with a demon for shameless personal gain. I give you exact methods that do truly work, but more importantly I expose the traps and pitfalls that not only interfere, but lead to total self-destruction. This chapter provides a much-needed practical and powerful method of making a pact with a demon for personal gain, without ever requiring illegal or immoral acts like hurting other people, as such have no place in real black magick. The corrupt lies are exposed, and real magick is revealed like never before in world history.
Truthfully, my ruthless Black Money Magick grimoire contains MUCH MORE than these simplified bullet points. The priceless secrets that I have discovered through over 20+ years in the trenches will accelerate the building of your Infernal Empire, and unlock the unlimited power of Wealth Magick for lifelong prosperity and abundance.
Spellbook 2. Conner Kendall – The Infernal Treasury
Greetings friend, black magician Conner Kendall here — contained in my grimoire within The Wealth Magick Spellbook, you will find the magick keys to wealth, abundance, and prosperity. You will discover the principles to usher forth a sheer onslaught of treasure in excess into your life. I share with you the intimate secrets of spells, concoctions, rituals, and other magickal formulas to assist you in the manifestation of all your desires. This kind of magick is not just the materialization of physical currency and monetary gain, it is the literal creation of prosperity, it is the transmutation of poverty into fortune.
All that I desired I already possessed — not physically in my hands — but all around me and in my life. I had to exude a certain energy and embody a certain energy. All physical things which vibrated at that frequency and possessed this energy would gravitate to me immediately. Understand that whatever spell or ritual we are performing, nothing is impossible. All things are possible.
— "The Power of Influence, Success & Abundance," Chapter 3
Spellbook 2. Conner Kendall – The Infernal Treasury
Ch. 1 – Material Power & Influence p.113
Ch. 2 – The Gates to Wealth Are Opened p.121
Ch. 3 – The Power of Influence, Success & Abundance p.141
Conner Kendall p.179
Chapter 1. Material Power & Influence
The topic of the first chapter touches on my first success with Money Magick during my brutal time of teen homelessness and poverty. Besides that introduction into my own personal beginnings with Money Magick, we dive deeply into the importance of the perfect state of mind to be to amplify your success with all of this.
Let me ask you this: if you prepare your tools, ingredients, items, temple and ritual area in order to perform magick, what kind of preparatory magickal work are you doing upon yourself? After all, you are the most vital tool. Therefore, in this section we cover exactly that, the core internal shifts required for the kind of magick that ushers forth fortune, wealth, abundance, and success. This acts as the very bedrock and firm foundation for yourself before any sorcerous word, tool, or ritual is even used.
Included therein is a powerful preliminary meditative invocation which attunes the magician's mental state, emotional state, and energetic-vibrational resonance to the perfect frequency overall conducive to Wealth Magick. Most ritualistic traditions have their own form of preliminary rites ranging from Summoning the Watchtowers or The Lesser Banishing Ritual of the Pentagram and The Bornless Invocation, so on and so forth. This meditative invocation is essentially that, but specifically aligned to the precise energies necessary and present in the art and science of Wealth Magick.
Don't just focus on your external temple, but ready the temple of yourself, the temple of the heart, mind, body, and the altar of your Immortal Spirit. When done right, you'll notice the tremendous difference in the results of your magick, especially when you relish in your excess and luxury of your successful outcomes.
Chapter 2. The Gates To Wealth Are Opened
As you move into the second chapter, the Gates to Wealth are opened, hence the title. It starts off with the powerful concept of Money-Drawing Orgonite. Utilizing the identical esoteric principles of Wilhelm Reich's Orgone and Orgonite, wherein energy accumulators of life-force, known as orgone, were constructed. Since then, the occult and other spiritual communities have utilized the same concept but to draw in unique, specific kinds of energies.
Here you will learn how to construct a Money Magnet that combines the power of Orgonite and Talismanic Magick. Drawing the energy of money and wealth to you effortlessly, you can employ the Money Magnet by itself, and to enhance any of your other Wealth Magick workings — the options truly are limitless. Simultaneously, you'll find my absolute favorite and greatest herbal concoctions, which have seriously amplified my Money Spells and Money Rites to a new higher level. Alongside the herbal concoctions, I give you a comprehensive table of the perfect ingredients for you as an experimental magician. You are neither limited nor restricted to just herbs or incense, but they are powerful for magick of this kind. I welcome you to mix and match these according to your personal experiences.
Discover the power of the Dragon's Eye, the Eye of the Void, found within the Qliphothic Sphere, a.k.a. Qlipha, known as Satariel, ruled over by Lucifuge Rofocale. Contained therein is the power to bring the desire of any magician to reality. Learn the ritual taught to me by that Three-Horned Devil himself. Through a merger of Lucifuge's energy, the energies of Satariel, and the power of the Dragon's Eye, and in alignment with the vision of your intent and desire, you will send an incorruptible shockwave of Qliphothic power out into reality. You will rewrite the actual source code and essence of existence to bring your desire to life and to fruition. Such a ritual isn't limited merely to Money Magick, but has a seriously limitless potential to any ambition of any kind.
Chapter 3. The Power Of Influence, Success & Abundance
In the third and last chapter, I share with the reader what I call the Transcendental Moment. During my experiences in out-of-body soul travel — the expansion of my consciousness and awareness on the astral plane and more — I came to realizations that will not only change you as a Wealth Magician, but change the very nature of your reality altogether. With this priceless gnosis and teachable moment, you will truly understand through experience that knowledge is power.
Furthermore, you'll uncover the Rite of Success, wherein we evoke King Vine, Marquis Forneus, Duke Eligos, and King Zagan. The goetic demons in this ritual have unique roles that they perform to ensure success in your life as a Wealth Magician.
King Vine – In this ritual Vine is summoned forth to remove any and all potential blockages, obstacles, and barriers for the success of Wealth Magick.
Marquis Forneus – Forneus's role is to ensure the magician is loved and favored by other people, ensuring unshakeable influence over potential clients, peers, investors, friends, employers, influencers, audiences, and so forth.
Duke Eligos – The role of Eligos ensures he attracts the favor of all. It may sound similar to Forneus, however it isn't, as Eligos causes the Cards of Fortune and the Pendulum of Fate to both align with the desire of the Wealth Magician. Duke Eligos helps to rearrange life circumstances, situations, and the universe itself to act in your favor.
King Zagan – The role of Zagan is concealment and glamor, ensuring he hides and conceals that which needs to remain private and hidden from potential enemies, jealous individuals, and potential saboteurs. Simultaneously, he casts a glamorous illusion around the magician to guarantee that they are perceived in the exact ways necessary for the fulfillment of the Wealth Magician's ambition in reality.
Next, you'll discover what's referred to as Consecrations of Gain. This is perfect for you as an entrepreneur, business owner, seller, artist, musician, teacher, influencer, content creator, and so forth. Utilizing this ritual can consecrate anything to be destined to be successful — I literally mean anything, e.g., your projects, creations, products, videos, photographs, websites, social media accounts, songs, store, business, movement, anything and everything. I personally have performed this ritual on my own projects and that of fellow friends and clients who are now in such a high level of their profession that it surpassed both mine and their own expectations.
You will conclude with The Infernal Treasury, by far my most powerful demonic ritual for wealth, abundance, money and success. You will call upon the Keepers of the Infernal Treasury:
Suhn'tal'ock
Lucifuge
Bune
Clauneck
Mammon
To unearth the treasure which they hoard upon the sorcerers brave enough to ask, this ritual is the infernal gem that has impacted and transformed my life the most, and lives of everyone I have performed it to help. And this only scratches the surface of the glacier hiding below inside the grimoire…
We'll Show You EXACTLY How To Perform My Most Potent Money Magick Spells To Transform You Into A Being Of Infinite Prosperity In The 7-Hour Wealth Magick Course
In The Wealth Magick Course streaming online in high-definition video, I show you how to cast Money Magick spells for prosperity at my altar in my personal Temple, but instead of simply demonstrating the rituals, I actually cast these spells in my own life, breaking down each step as I execute this magick in my affairs, so that you hear and see every detail, and start using them right away. The full course contains 7 priceless hours of classes.
Section 1. The "Inner Game" Of Success With Wealth Magick
In Section 1, I expose very personal background into my personal motivations for pursuing Wealth Magick, as these reasons are not exclusive to me — many of my struggles and achievements are common to Black Magicians. What may seem like accidents or misfortunes may actually form what I call a "Pattern of Struggle." I help you to identify your own Pattern of Struggle, and target that Pattern with proven spells.
I also help you discover and attune yourself with The Momentum of Magick, utilizing small successes stacked and compounded to create an inescapable pull in Ascent. And lastly, I make sure to give precise instructions on accessing the Theta-Gamma Sync and targeting your reality-shifts through Magickal Visualization.
Section 2. Targeting & Destroying Blockages
Section 2 is all about blockages. Before creating empires and finding treasures, we first must tackle the blockages that have held us back from success. I give you powerful counteractive measures against each type of blockage. The exact blockages that I've identified and have found ways of neutralizing are: Situational Blockages, Psychological and Emotional Blockages, Obvious Self-Sabotage, Ancestral Blockages, Past Life Blockages, and Spiritual Blockages.
Section 3. Leveling Up Your Reality
Section 3 is called Leveling Up Your Reality, because that is what you will do. I discuss the value of seemingly negative experiences, like coping with an Imposter Complex, tolerating trolls and detractors, and other discomforts encountered as you live your life in maximum authenticity. I expose the blessings within all of the curses you will experience, and I show you how to conduct your own Blessing Extraction, giving you the ability to look into any situation, no matter how awful, and find the blessing.
Section 4. The Commander-In-Chief Ritual & Power Commands
New and updated, my most popular ritual, the Commander-In-Chief Ritual — I break it down and show you how I have evolved this daily ritual day by day over the past two years. I teach you how to utilize a magickal tool that each of us carries with us, but sometimes we seldom use: Gratitude. Simply becoming grateful can engage a magickal response that unblocks your life and clears your path. In this fourth section I also teach you how to issue Power Commands, turning your own voice into a magickal ritual chamber.
Section 5. The Power Of Demonic Gatekeeper Bael
Section 5 kicks off with an Invocation to Bael to establish me as Ruler of my reality, followed by a breakdown of how you can invoke Bael at will, whenever and wherever you want. I teach you a simple spell that I learned as a young entrepreneur, a Balloon Spell to let go of what is holding you back.
Section 6. Proven Money-Magnet Spells
Section 6 hits spellcasting with a fury, giving you detailed directions for performing Candle Magick Money Spells; a Money Magnet Spell that continues to magnetically attract money to you and Pyromancy Spells to receive insights from the spirits of the flame.
Section 7. Demonic Spells For Fast Money, Career Development, & Power Mastery
Section 7 carries you into more advanced realms of magick, like consecrating the Sigils of Seere and Lukorst for fast money; opening and charging sigils and seals; Petitioning Clauneck for career development; sigil blooding; gaining Mammom's favor; and working with Abramelin Squares to master portals of power.
Section 8. Dominating The Long Game With Demonic Pacts
The final section focuses on the Long Game. It's great to use a spell and receive a flood of money, don't get me wrong, but what if there were ways that magick could constantly bring you abundance, whether you cast a spell for it or not? This last section gives you the real instructions for making a Pact with Lucifuge Rofocale for Excess, as well as how to adapt these instructions for the construction of any pact with any entity. I close out this video course with instructions on how to summon to visible appearance the most helpful demon when it comes to wealth, The Demon King, Paimon.
Let Black Magicians E.A. Koetting & Conner Kendall Summon Their Most Trusted Demonic Allies To Unlock The Treasury Of The Infernal Empire In Your Life On The New Moon Sept 25
We're honored to extend this one-time invitation for you to participate in an exclusive group Wealth Rite, performed by extremely potent black magicians Connor Kendall and myself, E.A. Koetting.
We will summon our most trusted demonic allies to work hard on your behalf, and both Connor and I will unlock the Treasury of the Infernal Empire and let the many riches of this world and the other spiritual realms flow into your life like a waterfall of abundance.
Ritual 1. Receive Belphegor's Wealth Attraction Rite By E.A. Koetting
I, E.A. Koetting, will perform Belphegor's Wealth Attraction Rite, in which I evoke Belphegor, the infernal demon of sloth, gluttony, and greed to begin working with you and upon you to make your desires known and to bring them to fulfillment. He will seal his sign upon you astrally, which will continuously attract increasingly greater degrees of prosperity and fulfillment.
Some of the first signs that this ritual is doing exactly what it is supposed to do are:
An increasing degree of confidence, clarity, and foresight
Lucid insights into profitable opportunities
Opportunities becoming more available and convenient
The possibility of money coming to you from unexpected sources
Advancement to positions of leadership and command
Heightened powers of influence, attraction, and command
Heightened telepathic and astral senses
Revelations and inspirations on how to reach your next level
This ritual will not only open your life up to receive material abundance, but it will awaken within you a Being of Infinite Prosperity, because true success isn't about what you have, but it's about who you are.
Ritual 2. Receive The Cauldron Of Gob By Conner Kendall
In my ritual called The Cauldron of Ghob, I, Conner Kendall, shall call upon the Kingdom of the Northern Quadrant, the Watchtower of the Earth, and all the Earthly Elemental energies, powers, and forces shall gather forth rushing into the temple. Furthermore, I shall summon the Elemental Ruler of the North, the King of Earth himself, Ghob.
The Cauldron of Ghob is an actual astral construct and matrix of earthly power. I first discovered that this Cauldron was astrally made out of a variety of earthly metals, stones, minerals, rock, and stone, possessing a living sentience, and stamped in gold, rubies, diamonds. Emanating from the center of this treasured cauldron emits a golden hue and an emerald green aura. In this ritual, I shall establish a physical representation of Ghob's treasured cauldron to act as anchor for his power and his earthly legions, to usher into your life abundance, prosperity, fortune, luck and success of all kinds.
Excellent Luck — Reshuffle the hand that fortune has dealt you and rebalance the scales of fate, ensuring you are endowed with good luck and good fortune from hereon out.
Earthly Abundance — Open up avenues and routes to spring forth an excess of abundance and prosperity in your life.
Expansion of Personal Empire — Receive windfalls of energy that open new possibilities to expand your own business and career opportunities.
Revoke Spiritual Poverty & Limitations – Say goodbye to the mental poverty that manifests struggles and restrictions, and welcome into your life limitless potential.
Empower & Amplify Your Own Money Magick — Through the energetic infusion of such a ritual you'll come to notice your very own rituals, spells and other magickal workings in alignment with Money Magick becomes amplified.
Initiation With Ghob & the Elemental Path of Earth — Become immersed and initiated into the spiritual ways of the earth along with forming a connection and alliance with King Ghob himself for any potential future workings. The forces and powers of earth shall fertilize the soil of your future. Think of your goals, dreams and ambitions as seeds of desire these seeds shall prosper and flourish in only the most fertile soil.
Hold Authority Over Land Spirits in the Name of Ghob — You will have power over land spirits and local entities of the earth in your local area. They will obey you as a king and do your bidding as your permanent allies upon your path of ascent.
Watch Live Recordings Of The Wealth Magick Rituals To Seal The Sign Of The Infernal Masters Upon Your Life Forever
E.A. Koetting and Conner Kendall will perform their rituals on the night of the New Moon, September 25th, following only days after the September Equinox. This is the perfect crossroads for beginning new ventures, starting a new business, doubling-down on your current empire, and for finding the path that is best for you.
Both Connor and I will film our rituals, so you can see and hear everything that happens, and receive any channeled insights that come through us. As soon as the ritual is complete we will begin processing the footage, and will send you a video link within a few days.
The ritual is not fully sealed until you watch the ritual video, as doing so confirms that you willfully accept these supernatural forces into your life. Once you've signed up for this ritual, we will bring your name before these Infernal Masters and seal their sign upon your life forever.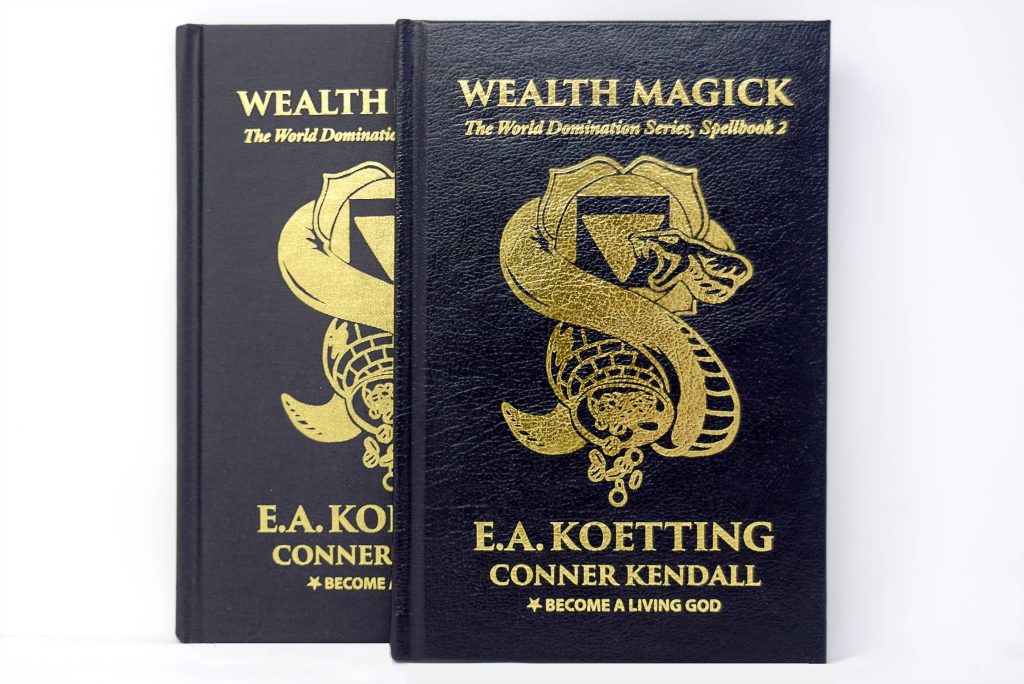 Order "The Supreme Wealth Magick" Right Now To Receive The Hardback Grimoire, Online Course, And Group Ritual — Get $1,300 Off And Save 62% For A Limited Time Only
| Name | Facts |
| --- | --- |
| The Wealth Magick Spellbook | Leather, cloth hardback in limited edition |
| The Wealth Magick Course | Lifetime access to online course |
| The Wealth Magick Ritual | Certified demonic wealth pact, Sept 25 |
| Global Shipping | Shipping in two business days |
The Wealth Magick Spellbook is your ruthless guide to performing demonic money magick for unlimited prosperity and abundance. It contains my proven blueprint for building an Infernal Empire from the trenches as a Master of Wealth.
1. The Supreme Wealth Magick – Save 62%
Get $1,300 off to save 62% with this three-in-one pairing to receive the full, life-changing, initiation experience.
The new grimoire, The Wealth Magick Spellbook, in black leather hardback edition
Lifetime access to The Wealth Magick Course online featuring 5+ hours of uncensored ritual performances, explainer walkthroughs, and enlightened classes
Unrestricted access to The Wealth Magick Ritual performed by both coauthors and a live video recording of the full, uncensored ritual performance.
2. The Complete Wealth Magick – Save 40%
Get $120 off to save 40% off with this two-in-one pairing.
The new grimoire, The Wealth Magick Spellbook, in black leather hardback edition
Lifetime access to The Wealth Magick Course online featuring 5+ hours of uncensored ritual performances, explainer walkthroughs, and enlightened classes
3. The Wealth Magick Spellbook – Leather & Cloth Edition – Save 10%
Receive the demonic wealth magick grimoire by E.A. Koetting and Conner Kendall by itself in either black leather or black cloth hardback.
The new grimoire, The Wealth Magick Spellbook, in either black leather or black cloth edition in hardback.
King Paimon's Final Words To Me Were, "Go Now Into The World And Do That Which You Have Commanded…"
Together as black magicians, we trail blaze our way through the wilderness, and we will find our way to the Promised Land without a helping hand or pat on the back from society. Truthfully, your haters will never love you, and the establishment in power will never empower you. The exploitation and suppression innate to every single aspect of the systems of control will require you to revolt against them on every front.
And your first act of revolution consists of you becoming more powerful.
Without a doubt, this path has taken me through abandoning everything, through homelessness, through drug addiction, through trauma, through failures, and through life as a whole. The Devil's Path has led me not to these challenges but through them. I am certain and I am secure that the Devil leads me now, just as He always has.
You and I walk the Devil's Path fully, and the Devil's Path leads to Godhood.
Godlike Power,