2/1 Started Goetic Workshop four day pre working via evoking Lucifer.
2/2
Dreams - None, but visualized sleeping with someone.
Physical notes - Anxious, fatigued, kidneys and back killing me up to center spine.
Mental notes - Tried evoking Lucifer twice with no candles or incense. I did feel a presence, alternating hot and icy, and a reassuring presence. Gave greeting, petition and thanks.
I think he may be telling me to use IcyHot for my back.
2/2 Tried using Lucifer seal and sigils on talismans as sigils to open with Lucifer's enn, chanted same as yesterday except a bit more rhythmic today. Some signs of flashing sigil, requests made after greeting. Thanks given.
Tried evocation with my phone as a black mirror slant seated in the ashtray, caprlturing the reflection of the Lucifer Xv symbol. Chanting enn had the circle seal open a bit.
Still no positive manifestation. Does it need to be done outdoors?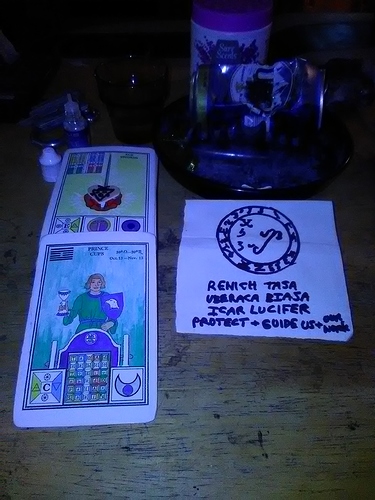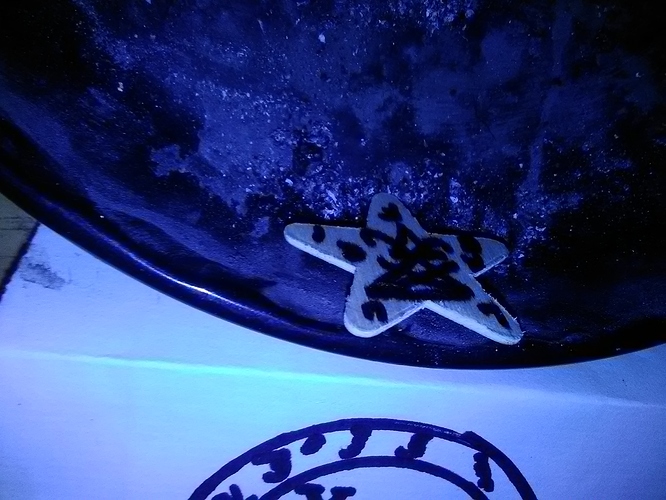 Started another round, now praying the enn and petition on a rosary. As I'm three beads away from one round of a rosary, my roommates male cat comes out, sits and stares at me.
He jumps up behind me, where I'd felt chills and hot flashes, then looks at the altar, sits on the altar and stares at me.
So I petitioned the cat, hugged him and thanked him. He seems content.
Work - Currently involving myself in several projects -
Become the Hermit, living my true will, nomadic, exploring, working.
Evoke Ghob, Paralda, Lucifer successfully.
Compile incantations for Lucifer, researching all names found in the oratory incantation.

Make several public only talismans, and private only talismans, charged and empowered with force for form.
A working for natal angels and demons.
FWB Magic
Studying grimoires to see what they did and why.
Connecting with ancestors and Celtic goddesses and gods and roots.
Bridging the magic across names.
Preloaded rituals as barbarous words, that are instaneous forces.
Tools, Altar, Pillars, Floor circle/temple
This was on my mind:
Now these are …
Reading - Waite (Incantations and Conjurations for Lucifer's evocation), Karlsson (same), Cicero (Chaps 1-3 - Earth and Air), Kraig(1-4,9 - Earth and Air, Evocation, Farrell, Butler, OAA(Lessons 1-9 - Earth/Air).
Rituals done -
No morning salutation
Adorations
Three evocations
Talismanic work
Rituals to do -
LRP Invoking spirit (PM)
LRH Banishing (PM)
Invoking Venus Luna, Mercury Hexagrams
Ritual
Evocation (formal)
Meditations - none yet