I just had a rather strange experience. I was reading random BALG posts, but suddenly the world started to fade; at some point, I closed my eyes, but I don't know when. I entered some kind of trance state. And something revealed itself to me.
I saw, at first, a pair of bright glowing yellow eyes, unmistakably demonic. After what was a few seconds but felt like forever, my vision panned out to reveal a horned figure who's face was shrouded in shadow; only the glowing eyes and the silhouette of the horns were visible. The demon wore a black cloak. I asked it what it wanted. It simply pointed at what felt like my forehead. I asked if it wanted to help me open my third eye. No answer.
Then I asked it for its name. It wouldn't give me a straight answer, but instead revealed a simple symbol to me as follows: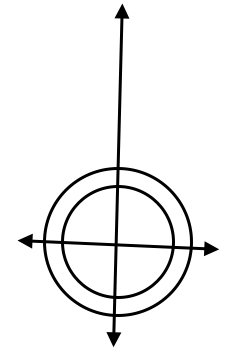 Then he slipped away like curtains were closing and it was over.
Which demon does this sound like?