Here goes nothing, this is my story so far.
Intro:
I am a married man who is abandoned in my marriage, and was covering up my abandonment issues by hanging out with friends, picking up hobbies and stuff, and never really addressed the root issue. I am not saying my wife is a bad person, she is truly one of the kindest persons I've ever met and you will know why I say this.
Love:
Last year, on Feb 13th(2019), I met this amazing woman who I was always attracted to, she lives in our neighborhood as well, and we started talking, after a while, she told me she was going to apply for divorce and that she isn't happy in her marriage and that she found me very attractive. We started flirting and stuff, but nothing happens yet.
I got her some gifts, but yet nothing happened between us because she wanted to work on her marriage, but I knew I had an extremely deep connection with her, so I didn't want to give up on her and was actively pursuing her. I realize now that, I've always been the kind where when I want something, I give it my best shot.
A few months later, she came over to my place and we both ended up kissing each other, but nothing more, after which I was given the hot and cold, on and off treatment, mind you we both are still married to our respective spouses, however, a couple of days after I kissed her, I spoke to my wife and came clean about it, my wife was hurt and upset, but still told me that she deeply loved and cared for me, but nothing in the sexual side yet, which we will cover soon.
Loss:
In May(23rd May 2019), I really didn't want to deal with the hot and cold treatment and I knew by then that I really love this woman, so I start working on my energy and I petition Amon to help me get her, I also worked on Djinn rituals and Kleem mantra to help me get her.
Reconnect:
On September 7th 2019, she sends me a message on Facebook and said that she was sad, mind you this is after 3 months of no contact what so ever. I reached back to her and asked her why she was said and she said that she missed me, we start talking at this point and after a week we end up making love, I wouldn't call it having sex, because we truly made love and we both knew then and know now that we love each other.
Violence:
On September 22nd 2019, her husband figured out that she was chatting with me, and knew a little bit about the affair, neither of us know how much he knew, but then, he got violent with her, came over to my place started screaming at me, went back then brought her along with him and started screaming again. I didn't say a word, all I said was, if I sent her any message, I meant every single word of what I said. He spoke to my wife, and because I came clean to my wife about the whole thing, she said she knew of it and that I was always honest with my wife. Below are the pictures of what he did to her.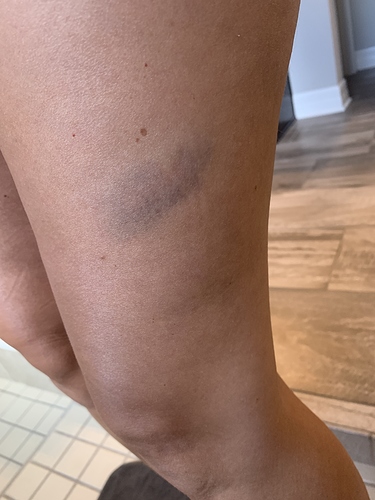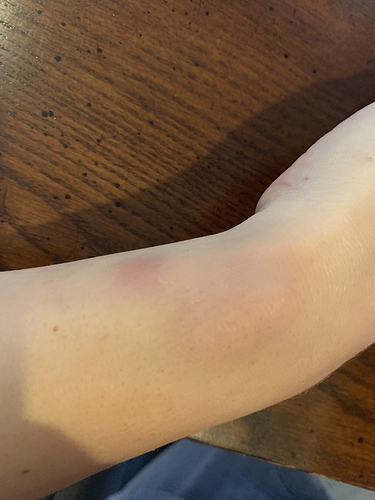 On September 23rd(2019), she sent me a message saying that she is not abandoning me, and asked me to be patient with her, after which she didn't chat with me for two weeks.
Love Rekindled:
On October 11th 2019, she sent me a message, and we start talking again. She told me she really likes me and that she cares deeply for me. We start talking and we again made love multiple times, although there were instances where she was hot and cold, on and off again, but she did maintain communication with me.
Things were going steady and well between me and her, but she did want to go to therapy to sort the differences out for her peace of mind and to get a divorce in an amicable way after that violence. On January 14th 2020, she and her husband start seeing a therapist.
She still continues to talk to me, and we did make love one more time after that.
Abuse again:
On January 16th 2020, in the afternoon he saw me and later that day he went back home was acting all nice with her, first asked her to microwave wings and pour them each a glass of wine and asked her if I got in touch with her, she said that I contacted her in October to check how she was doing, and then he started going crazy, he said that he was coming over to my place, but he never did. Later he went back home, and again caught her by the arm and threatened her.
But even after these events, we still continued seeing each other whenever she had time, and she did tell me that she loves me, but we never made love after this incident, although we did kiss each other on a few occasions.
Loss:
On February 2nd 2020, we met and I told her that it is decision time for her and she needs to come up clean with her husband because it is causing her a lot of pain, sadness and confusion. On the same night she does confess things to him and tells him that we did make love to each other.
On February 3rd 2020, she sent me a message that she told her husband about us, her husband did not get violent this time, but was hurt(which I genuinely do understand), and he also knows that we have slept together even after that incident on September 22nd, but she didn't say multiple times. She told me that she was struggling because she knows that she is a good person, but he drove her to insecurity and opened the doors to these choices. She also told me that she does love me and that she has to figure shit out and asked me to be patient with her.
On February 5th 2020: She FaceTimed me(using a burner phone I gave her), he was there beside her, and she told me she can't be with me anymore and that she loves her husband. He then asked me to never contact her again, and that if I did, things wouldn't end well. I apologized, not because I was sorry for him, but because I didn't want him to treat her badly.
Doubt:
Ever since that call, we didn't communicate and I am in doubt if she is trying to reconcile and work on her marriage, or make the separation as smooth as possible or whatever way it is.
Pain:
I genuinely loved her with all my heart, I offered her to come stay with me, not worry about bringing anything other than her daughters and a pair of clothes and absolute essentials. I offered to take the best care of her and everything, and now I feel lost, confused, and in utter pain.
Note:
All through this turmoil, I was honest with my wife about all the details, and she still loves me with all her heart and she said she does that because I believed in her when no one did and that I am a good dude and always wish well for other people.
He was arrested previously(violence against a teenager kid in our neighborhood) before all this started, and from what she told me and what her best friend told me, he is emotionally manipulative and extremely controlling, she even called him narcissistic.
I am still working on Amon's sigil and hoping and praying that she will come back to me. But I feel lost and devastated.
Requesting all my fellow occultists to offer any help or insight or even just your wisdom and moral support.
Thank you
Peace!