Ok so I was reading E.A.'s book Anthology Of Sorcery and the 2nd article in this book basically explains pacts with the devil. It goes on to explain that magic is not about symbols or words or ingredients but finding your own path to make magic work.
I was so excited and it said to shower before and I came on to something new that I could do while I was in shower before I performed the self made ritual.
Ok so the here is what I found I can do I found by just wiping my hand over my other hand and my shadow seemed to be less appearing. I was happy with that so I tried again and again my shadow become less seeable.
So I practiced with the removing of my shadow from my view and it got to the point I had to have my hand very close to the shower wall to see even a glimpse of my shadow.
I want to explain the gifts I have been given and why I decided to ask Lucifer who I have always shared an intense love for to be my initiate in my path to becoming a living God.
Gifts before pact with Lucifer:
My hands in a camera glow green when I am focusing my power to move or remove stars.
I can remove stars.
I can move stars.
I can remove shadow.
I can increase the width of shadows.
I can make new stars.
I can make new clouds.
The increasing the width of shadows I have known for quite some time but today when I was in the shower I realized I can lower the visibility of shadows as well just by rubbing my hand over the other the shadow would dissapear it got to the point where I could not see a hand in the shadow just an arm.
The green light shinning from my hands was amazing I only found that out last night as well. I feel Satan and Lucifer have been kind to me giving me gift over sky (satan) and fire (lucifer) because I can expand clouds and create new ones I can also create new stars and remove existing which is controlling fire.
Anyway here is what I did to dedicate myself with Lucifer for life: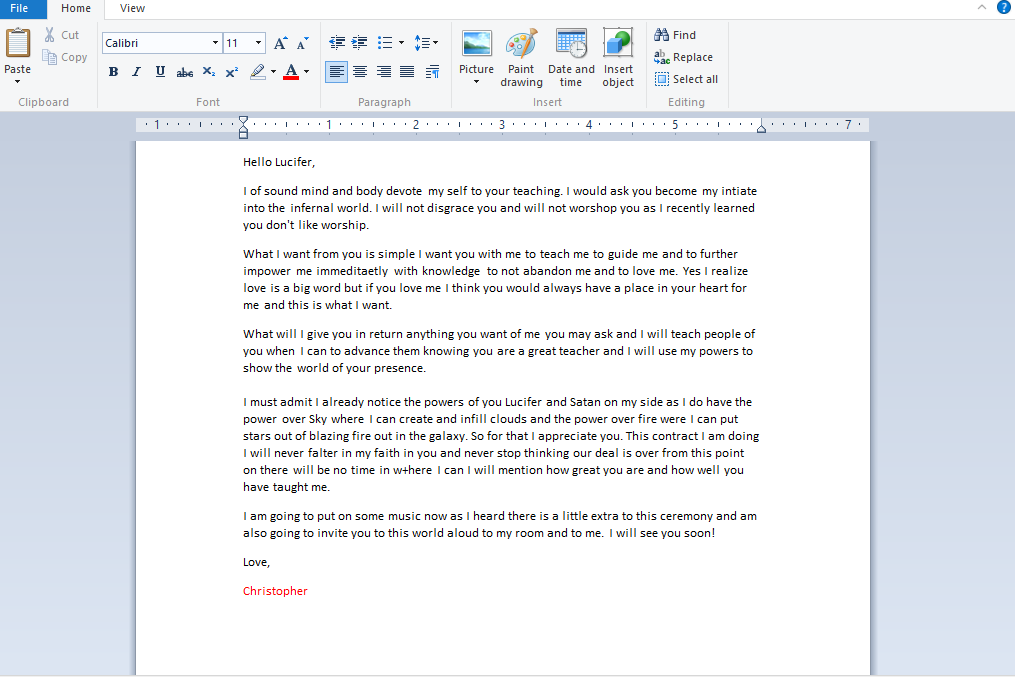 After I wrote this I put a song on infinite looper Shawn Mendes - Stitches Lyrics and laid down and asked Lucifer to read my message I had made on the computer and to give me a sign of accepting our arrangement.
A few seconds later I felt a hand on my foot and it was rubbing my ankle I am very sensitive it feels soooooooooooo good when someone rubs my left ankle. Anyway then I feel a rubbing up and down of my arm I thought this was foreplay but then there was a rubbing on my back and then to the middle of my back and that was cool.
Then there was a tongue like feeling on my toes and then I feel asleep. I wake up and there is no more feeling of sensual action. Guess Lucifer didn't need me in that way but I was totally open for it but I am not gay but I hold no shame for being open to the experience as in the book by E.A. it says that Lucifer is known to have a sexual experience with the initiate.
On a side note I didn't use blood or my "life essence" because based on the article itself it just shows the promise is real. I invited Lucifer into my room and told him several things and he made me feel him so I believe our pact is closed and I he will help me.
I have attached the image and got to say this was a moving experience I didn't wake up with the ability of fire eyes or anything but I did notice an extra ability already one I am kind of excited about here it is:
I am able to at will fill wind flow through my hands and control the wind outside a little.
What I think people don't realize is that abilities don't always come with a manual and even the pact with Lucifer article says in E.A.'s book that Lucifer opens the door and the path you must go down it what I have gotten from this is Lucifer gives the ability but you have to learn how to harness it.
I hope this helps magicians realize how to make pacts and that is partially why I posted this any feedback would be amazing. Love you!
---