Day One: So I did it, I went right away and placed semen on the Sigil. Always works - I lit both red & black candles second. I noticed at first the black candle was dying. Wasn't really sure what that meant but the flame went right up.
I decided to go out side of my room, needed to wash my hands. The light in the hall way was out. Then it came on again. It's not like it may have been the spirit that is in my home, it's done that a few times just today is a little different. I got back to my room to check if every was okay and everything is perfect. I sat down on my bed and I could feel this heaviness on my chest, almost like a hug.
I decide to get up and wave my hand just above the Sigil and I can feel this energy resonating on to my hand. Not a feeling I feel until I'm dabbling with the Occult. It's a sharp Energy I felt, I also felt fire going around my hand. My pinky finger however felt a bit of heat. I think I recall something like that last time.
I have to admit, I'm not a brave person. I was a little scared. I shouldn't be since I've done this before, it's just been a long time. I felt really happy later on (Happy now), excited. Almost like I'm high on something. It's a wonderful feeling.
I see Lilith as a friend. She's beautiful and so is her legion. They never let me down even though I gave no offerings the first time.
Anyways here's a picture.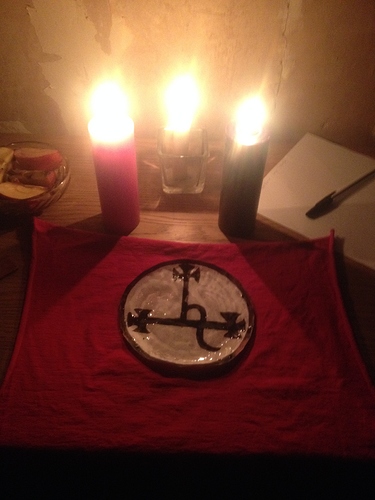 04/01/2020