Preface: I never journaled before and don't know if I'm doing this right and don't know if I'll continue this. If I continue it my entries will likely be sporadic and few and far between. If I'm doing it wrong, we'll I did say I've never journaled before so please be patient and understanding as I'm new to this journal stuff.
Ok so here goes…
Last night I was chilling in my bedroom and decided to try something I hadn't done before. I decided to listen to lucifers enn looking as his sigil.
So I've never really done anything like that before and the result was unusual to say the least. (Well I did try once before but nothing happened that time).
So I might have been doing it right the sigil seemed to as people here call it 'flash' while I was looking at it trying to meditate on it all the while sorta thinking not thinking about Lucifer. The arms on the sigil seemed to flicker lighter and darker and um not exactly disappear but um sorta go in out brighter/paler darker/stronger if I'm describing what I experienced right (it was more then 12 hours ago and I'm trying to remember back to it from well actually about 15 hours later now).
So when the enn ended I was sorta decided to look at the ceiling and I sorta saw in my minds eye against the celing a firey angel figure seen from a distance. When I closed my eyes the image became clearer but I was still seeing it at a distance and couldn't make out any features though I had an impression of the fire angel having horns. I couldn't see them clear just sorta as a brighter light at the side and top of where it's head was. My impression was they were ram horns or of that shape but the figure was so distant I can't be sure.
I'm wondering if I did something right and made a sort of contact with Lucifer or not.
Did he show himself to me is what I'm wondering. What do you think?
The closest picture I could find online to the appearance of the firey angel was this one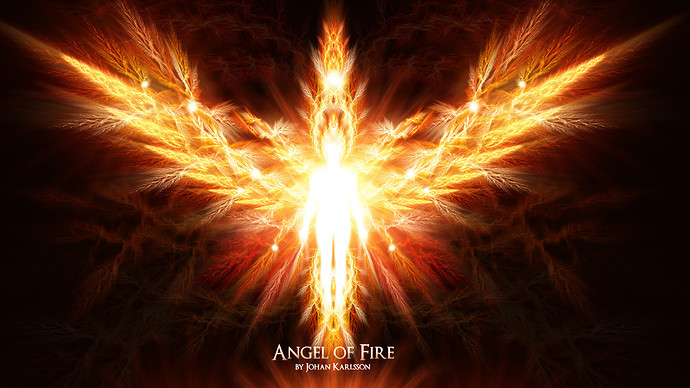 I know Lucifer is supposed to be originally a seraphim angel (fire angel ) so I wondered did I make contact with my first meditation attempt? Um correction first meditation attempt to mediate on Lucifer and his enn. I have lots of times sorta meditated to music to chillax but never had any experiences like this doing those meditations.
It wasn't scary I couldn't really feel anything other then I was relaxed. My main feeling seeing the firey angel was "cool"
Then I sorta roused myself after a few minutes and the image left my mind and was not in my room or anything.
So basically I'm left wondering did I meditate successfully? Did I make contact with Lucifer? Or did I dream or daydream the whole thing.
So this is my first ever attempt at a journal entry I don't know if I'm doing it right and I'm still wondering what happened yesterday during my meditation whether it was real or I dreamt it.
I don't think I dreamt it but maybe I daydreamed it or imagined the whole thing.So ends my first ever journal entry (with me still trying to figure out what happened yesterday).
-end first entry-
Edit add: in the image there was no crown thing on the firey angel I saw in my minds eye (just to clarify) and the figure was too distant to make out legs or arms on it. How I could make out horns was they were a much brighter yellow white against the rest of the firey figure.