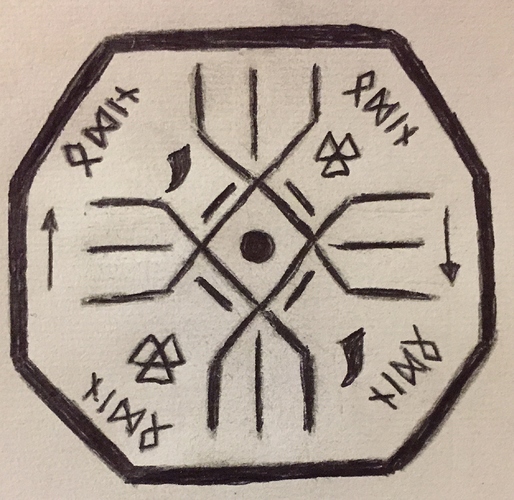 Above is the sigil I created for Odin the allfather.
Credits to Asbjorn Torovol, I have used his eye of Odin from my experience it's like a vortex that pulls the essence of Odin.
Also I have placed two mead horns and two valknuts that consist of three interlocked triangles, that is attributed to Odin among other things.
On the right and left I have placed two spears on each side, the spear is the actual preferred weapon
Of Odin, to me this shows his nature of being the father of battle.
In each four quarters I have written Odin's name in runes and placed this symbol in the octagon, spirits have revealed to me that the octagon, works like the triangle of manifestation, except it doesn't constrain spirits it empowers its manifestation.
The sigil works extremely well, just thought it would be cool to share this with you all.
EDITED :
I have created a new and improved version of this sigil it's below.
Inside the circle I have created some Norse Viking artist theme with a mead horn, axes, sword and a spear along with metal chains a shield, a black raven and Celtic / Norse patterns.