I saw that Loki was Kaunaz
That's weird. I'd think that a trickster god would be related to a rune representing illusion. Then again it takes wisdom (ansuz) to create illusion (laguz)
Im asking about his rune to see if I can employ them in an evocation, like a sigil.
That's just the general opinion of many who are deep into runes from what i've seen, but i honestly can't say, Loki's very nature makes him difficult to pin down, i say go with your first instinct. Perhaps Loki wants something totally unique between him and you.
I would say Ansuz is the rune for Loki.
From my rune book (the Book of Runes, Blum)
Ansuz: Signals, Messenger Rune, The God Loki
Thurisaz: Gateway, Place of Non-action, The God Thor
Hope this helps.
Doesn't Loki correspond to Mercury
I believe that's right but I'm not entirely sure.
With ansuz being a the messenger rune that makes WAY more sense. I've known it as a rune of knowledge, which is why I thought it sounded funny. Since I knew laguz as illusion, this trickster energy
You could always channel Loki to ask for a sigil, from my previous works with him, he prefers to be treated differently and called differently unlike the rest of the Norse gods.
The best approach is the chaotic approach it's his nature to be anti-tradition.
He literally told to just write his name in runes inside a inverted triangle and it worked incredibly well.
Anybody have a rune or stave for the dwarves?
I have had the exact same experience. I think it is exactly as you said–Loki's anti-traditional stance on the universe. He is the Mover and Shaker, who causes change in the multiverse.
I am not 100% sure if it is related to Loki but each time I used this rune with him in mind I got the following effects: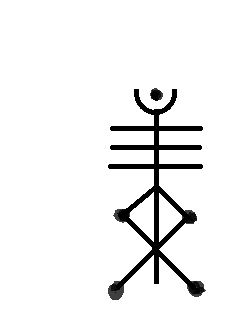 Hearing his name, echoing inside my ears
The Rune Isa and a vast landscape of Ice with Winds and storms
A Large dire wolf of pure white/silver colored fur with crimson eyes in the previously mentioned landscape
In many cases that I was in need of a quick exit from a situation or the need to manipulate someone or something this rune was always present in my left arm (I've drawn it) and was pulsating
Have you tried the ruined associated with the underworld? Or with the ground?
Cool
Is there a mantra or enn too?
Anyways, the correct rune Name of Loki seems to be LOPTR:
Laguz
Othila
Perth
Teiwaz
Raido
how to write his name in runes inside a inverted triangle?
how to write his name in runes inside a inverted triangle?
This is a strong SIGIL i can feel the power inside it. is this the SIGIL of Loki?
Not in a sense of 9invoking him, rather, it invokes the power of Loki, gives you the ability to perceive things differently, and be more "cunning"