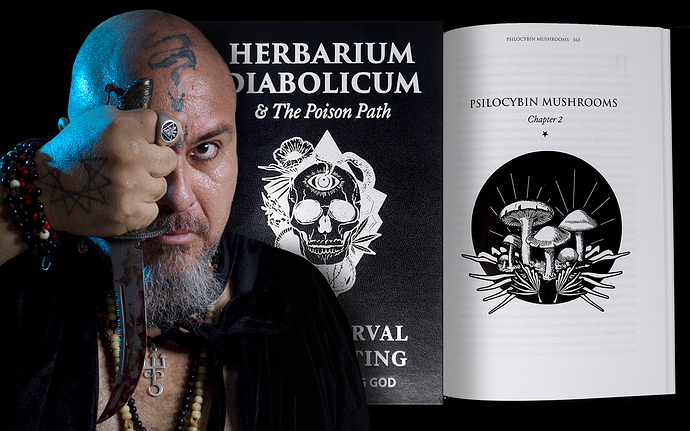 Herbarium Diabolicum by Edgar Kerval & E.A. Koetting
Order Tuesday, July 14. Get a FREE chapter in ebook now: http://balg.co/hd
Learn sinister shamanism for the Left Hand Path, and homebrew mind-altering magick experiences. Learn the prohibited rites and recipes of The Devil's Plants (entheogens) for unholy gnosis with Hekate, Samael, Lilith, Moloch & the Qliphothic Gods & Goddesses. Featuring the newest discoveries in psychotropic magick, let Edgar Kerval & E.A. Koetting guide you through direct gnosis with the dark gods, and initiate you in the Green Kingdom, Tuesday, July 14.
In Herbarium Diabolicum, you are going to learn:
Dark witchcraft of sacred plants for spirit contact
The Cauldron of Lucifer for inner fire alchemy
Homebrew tinctures for organic necromancy
Rite of the Peyote, a.k.a. the "Diabolical Root"
Forbidden formulae for fetishes with illicit plants
Organic incenses & manifestation bases for gnosis with Qliphothic Gods & Goddesses
How to safely brew & consume entheogens
Sinister history of the ultimate shamanic experiences with entheogens & psychedelics
And MUCH more…
Place your order for this new psychotropic grimoire of sinister shamanism, printed in strictly limited edition, on Tuesday, July 14. Download your free ebook chapter right now: http://balg.co/hd — and I will see you midnight Monday night (ET-USA).