I want to share my experience , started in November 2019 , in working with Sachiel and Jupiter planet( mostly influenced by Pauline Arts)
I needed this to become a better individual , prosperity , self-esteem and, at that time, for a new home .
Ritual :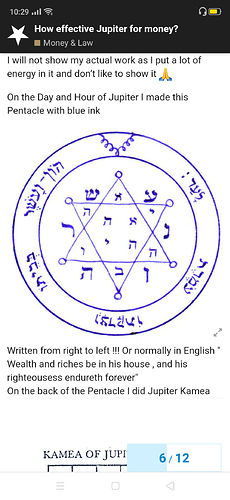 Did the Pentacle on the Day and Hour of Jupiter and on it's back Kamea with my name traced +
Sachiel sigil
1.lighted up my white candle ( only use white ) and recited the vers from the Pentacle
2.candle meditation till the flame turned blue and purple so I welcomed Sachiel
3.started meditation ( meditation felt differently that with the other Arhangels, this time complete blackness and a very strong disciplinary feeling )
Situations that occurred End Nov/December:
France has very expensive private rents , at least for me ! It's better to live in HLM ( rents given by social services ) but the waiting time in overpopulated cities is…unknown
I was very depresed as I was waiting for 1 year already .
I was even in priority on the list due my divorce but the entirely year nothing !
At the end on December just before Christmas got my apartment
It felt like Sachiel heard me …
January/February: During the " recharge" of the Pentacle and into my meditation with Sachiel I started seeing sewings machines
I was wandering for long , what am I good at , what is my passion ??
Then I had a dream where an old lady offered to teach me to sew ( but maybe because I was already doing researches about this )

Mars: when I lost my home , I lost the furniture , electronics, everything! I only had my clothes and my books

The pressure of buying everything from washing machine , dishes etc etc was starting to put it's amprent on my pocket !
The Covid quarantine was slowly starting too .
One day at work ( cleaning industry) i meet this new woman who was kicked out from the people giving her and her family accomodation
Soooo I let them stay with me , we started share rent and bills which helped me alot get back on my feet .
The strange thing was that she knew how to use a sewing machine and teached me !!!
June : On a short term , finally been able to save money from a loooong time .
What Sachiel thought me : Order and Discipline
Curious to see others experiences with him

Have a blessed day