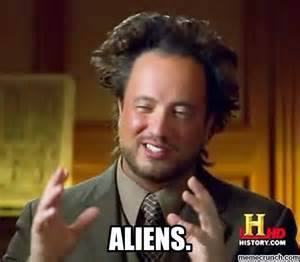 I don't believe in their ancient astronaut theory but I get to know the unsolved mysteries in the world from this TV Series…
We're just teasing.

I actually do think humans were genetically modified, whether from "space" I'm not sure though.

Have you read book of dead???
I have & I saw an old copy in person at the Field Museum. Why do you ask?
Because the spells are from the book of dead which are protecting the tombs of pharaoh and his valuables…
It's a running joke in my family that Akhenaten was an alien, but he probably just had gigantism or something. I do think aliens visited the Ancient Egyptians at one time, though. Not like 100% unchallengeable belief, but I believe it more than I don't.
Oh, nods. Yeah, I think the curses are legit.
Really? It's been decades since I really was into Egyptian stuff, but I thought the Book of the Dead was just the instructions for the soul (can't remember if it was the ka or ba or what part, at the moment) to make its way to Anubis for the weighing of the heart. Hmmmm.
Edit: Nevermind, found it. You're right.
When you look at evidence of Bigfoot (believe it or not) that only gets compounded.
As for Akhenaten, the link kind of confirms my personal theory a bit. Because of what he did with the ruling class (the priests) and their religion, I have a hard time thinking anyone responsible for embalming his body or more would have wanted to protect him in the afterlife.
As a matter of fact, his case might be an example of how things were done when the priests believed you didn't have a snowball's chance in hell of making it.