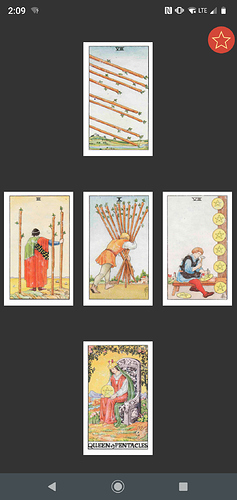 Hey everyone!!
I'm having a little bit of trouble understanding my reading. From what I'm getting out of my love cross spread here, is that;
Cards
1; I'm willing to negotiate & find a happy medium. This is a good omen card
2; The woman I'm after is focused on her path & what she wants to do next in her life
3; This is where I start to get a little confused. Number 3 is about the past, & the card I drew was the queen of Pentacles. Which has a lot to do with generosity, & giving…Or another way to interpret it is happy marriage. I'm not entirely sure how this card is to be taken in relation to the love cross,
4; I understand, the woman I'm wanting is still kind of pulling herself back together from recently being really hurt emotionally, which is one of the things keeping us from being with one another, & that's okay we both said we wanted to take it slow, & one day at a time which I'm perfectly happy with too.
5; From what I'm getting is that the end result from patience will be us heading towards love, & could even be taken as the end result is somewhat near as well.
Would someone be able to help me understand number 3 please, & what your interpretation of my spread is??
I truly appreciate all responses & opinions!! Thank you all, & have an amazing day
ADDENDUM
For those of you who have been following my posts for a while now, this is not for the same girl I used to be after. I'm happy to report that I've moved on since