Just for the records I did not try this yet, and came here seeking a little advice on how accurate the citation and casting can be since there's only one mention for Hagonel all along the forum which states that he supports Veganism, while the ritual required a raw chicken wing and a blood offering. Weird…
Doing some digging around, I noticed a slightly moderated version of this spell, that is in no way black or even grey magic. But has the same evocation, chant and actual ingredients.

Now the spell is to stop a partner from completely walking away, helps you to reconnect with your partner no matter what has happened to bring you to this point, and it states that it can help you eradicate the whole problem from its roots.
The whole spell though for your kind reviews of it.
1 Raw Chicken Wing
Your Picture
Your Partner's Picture
1 Small brown paper bag
1 Black Pen
1 Black Candle
5 or more Rusty Nails
Matches (wooden)
Hagonel Sigil
The casting:
No specific day - but my wild guess for this would be a friday or a waxing mood
Carve your name with the Nail on the candle
Carve your partner's name on the other side of it.
Prick your left hand's index's fingertip and drip 3 drops onto the top of the names
Light the candle while focusing on your energy, then start drawing Hagonel Sigil onto the brown paper bag with the Marker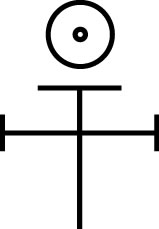 NEXT:
Place both pictures facing each-other on top of the Sigil.
Light the pink Candle with the wooden matches.
Use the candle to drip 13 wax drops onto the names while focusing on the problem you want gone and how Hagonel will eradicte them.
Add the chicken wing on top and warp up the paper bag, folding it into a small package.
Close and seal the package with a string.
Snuff out the candle and chant:
Hemiki Gagiki Bustako To Po Co