I recently made a big step in shedding the JCI baggage that I have from childhood.
I contacted Archangel Heylel Lucifer for the first time.
He is absolutely incredible. My only mistake I'd not facing my fears years ago to contact him.
It was very simple I used his enns , my singing bowl and this seal.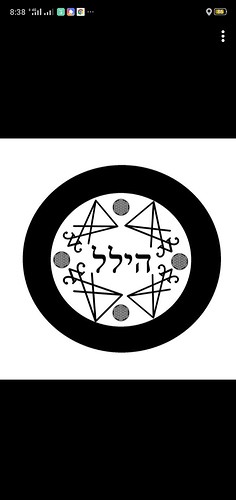 His presence comes on very fast. I was delighted and surprised that he showed me an image of an open hand facing me. This is my private emergency call sign to Archangel michael. He did this call sign to help me be unafraid.
I met him and he is to me as an angel silhouette surrounded by brilliant blinding white light.
I felt peace and clarity and I felt that for the first time in my life things were going to be ok.
I told him I acknowledge him and respect him.
I asked him why he called me. But words weren't necessary. He said I wanted to help you.
I said I accept your proposal.
I feel like I just got drafted to the number one team in the league.
Now I feel no fear of the demons angels or elementals or djinn.
In my workings I always call King Bael and Prince Orobas to assist me as I'm pacted with them. From now on I'm calling Archangel Heylel too.
This was the biggest moment of my LHP journey. I can't believe all the lies about him I believed gif so long.
I feel wide awake and on the team and finally heading home.
Hail Archangel Heylel!
Hail Lucifer!
The future belongs to us. Let's move on together.
Please share the moment when you faced your fears and met Lucifer for the first time.