Starting my journal here with just one photo which was my second dream communication from a Goetic ancient God.
Also my first successful connection came in last year March from the Top Himself - Lucifer.
Let's start with Him first :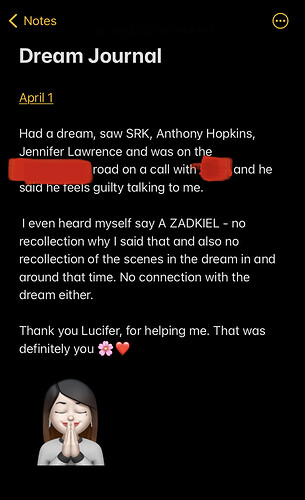 I had contacted lucifer while in tears, fed up, very emotionally charged up (read shattered) , in my bed, just looking at the ceiling fan and saying Lucifer if you can hear me please help I don't wanna feel this way. And then I slept. In my dream which I clearly remember I heard myself say ZADKIEL to myself. That had no connection to the dream plus i had no idea who or what ZADKIEL was. I don't even rem why I said that name. Upon research I saw it's an Archangel and his powers were what I needed at that time with that kinda situation I was in.
In my experience - it's your pure intention that has to call out to him. The raw and pure the emotion and intent - you will be answered. I didn't perform any elaborate ritual or anything and He helped me instantly coz I was very genuinely asking for His help and very very emotional then. He felt the trauma through me and I personally think that's why emotions are important. These are primordial abstract sources of raw energy forces. To help us humans they need to feel what we humans feel. So the emotions come into picture and sometimes visualisation helps too. But my emotions were sooooo heightened that time that the help came within hours. But He hears regardless.
To anyone starting out : You just need that calling from within. You'll know. Have faith. He hears everyone.
I'd also like to mention those discouraging, arrogant and money minded ppl who act like they wanna help you but they actually don't and rebuke and label and discourage you based on your experience. Yes magick is complex and it requires learning and patience. But nobody can tell you how successful you're going to be based on your tenurity. You might be a week into magick and occult and you can still achieve tremendous success as opposed to someone who has dedicated 30-50 yrs of their life to their craft. To each their own but as Lucifer advised me - YOU DONT NEED ANYONE TO ACHIEVE WHAT YOU WANT.
You just have to decide when you are ready to start your journey - results, failures, successes, kind of practice etc are all your decision and only YOU can decide that. Donot ever get discouraged even if you're being shut down by others. Let those petty ppl do what they do - you continue with what your intuition tells you.
Entities don't discriminate - give respect, gratitude and be shamelessly honest and you're fine.
I hope this helps everyone I know and I don't know.