Would anyone know the rune to cause death?
Hagalaz is often associated with death and destruction. And has a connecting to goddess Hel
Hagalaz, Isa, thurisaz merkstave, sowilo merkstave. All nasty, and those are off the top of my head
Isa is the rune of stagnation, or standstill, and ice. I have the suspicion that Isa causes or foreshadows suffering up to a death, symbolic or otherwise. Nasty rune indeed.
It is my understanding that Laguz in merkstave can bring suicide. Raido in merkstave can be a transition from life to death, so that is an option too. Mannaz, too, in an indirect and general way. I mean for death, specifically. There are more than that if you are going for other, nastier options. Some are mentioned above.
Upside down Laguz, Thurisaz (can be right side up too), Algiz, and Kenaz all have qualities that can bring about death. Isa can freeze someone in stagnation. Find the runes that they put on the cursing poles.
You could also combine the suggestions you have here and make a bind rune
?? I never heard of that rune… for me, it sounds pretty close to the "is" rune,
which is a simply vertical line -the i, the self.
in that context does it give me a very uncompfortable feeling.
Isa is the straight line one, it means ice. Stagnation due to being frozen in place, now that i think of it, a lot of the runes in the second ett are mean runes sort to speak
It means also the self… idk if i really wanna think about it.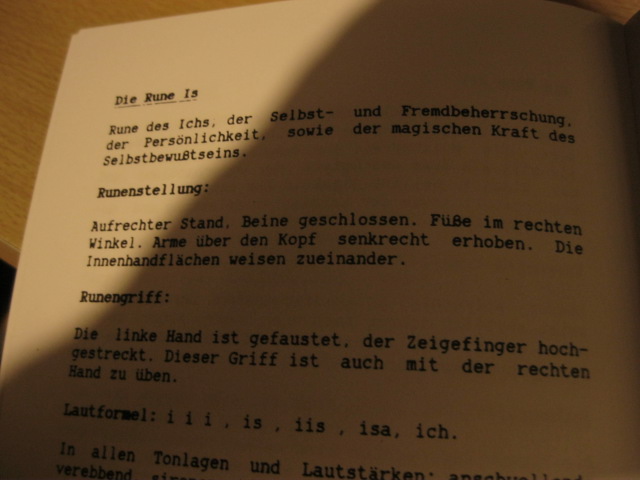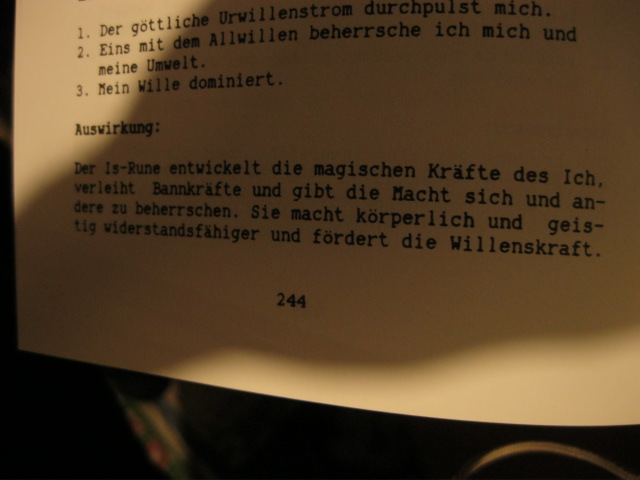 It is connected to magic.
Its associated with self control and control over others.
Actually think of freeze. It's more accurate
Can someone with linguistic skills in german, please comment on the damn text that i photographed?
i don't like to argue outside of my language.
that looks like a different form of the runes than i'm familiar with
Those look a tad different, except for tyr.
Wunjo, stained with urine and perhaps painted yellow. Great for cancer.
Al.
Damn dude. Sounds like lung, kidney, or liver cancer to me, lovely