Okay so there's this being that I decided to try and reach out to, I don't know her name, or IF she has a known sigil, however I know VERY WELL how her energy/presence felt when she was around (usually at night).
I also have plenty of memories of paranormal activity that would happen when she would "visit" at night (would hear alot of footsteps, knocking, orb activity/etc) + the memories of dream visitations and the one sleep paralysis experience I had. She was an important aspect of my young life for like 10+ years.
So I did try and create a sigil for her. To try and reach out to her. What I did was make the sigil symbolic of well her energy + my experiences I had with her in the way the sigil looks/symbolic.
I also did my best to mentally bring her energy/presence into my awareness + vividly remember the experiences I used to have WHILE creating the sigil. So that all of that would go into the sigil. Basically like an invocation of her energy + all the memories to charge the sigil while I was making it.
When I had created the sigil, it definitely had energy to it. I also tried to open it, and did feel a shift of energy in my room. Energy felt familiar, although I don't know if it was anything more then just energy.
I don't know her name, but I did have sort of a nickname I called the being when I was young. And I'm sure that name has enough power + energy to be just as effective as her real name. Since I used it so often in relation to her when she used to come around and stuff. So I put that name IN the sigil to add some energy, And my subconscious definitely knows which being that name goes with even if I don't know her real name.
I decided to do this because I've been doing ALOT of reflecting on my past, and realized that she is legit the reason I even awakened spiritually or got into the occult (it was to contact her lol), and every time I would be thinking about the dream visitations or memories about her…I'll legit see 1111. And I don't see that often, but it happens mostly when thinking back on the dream visitations – so I feel it's important.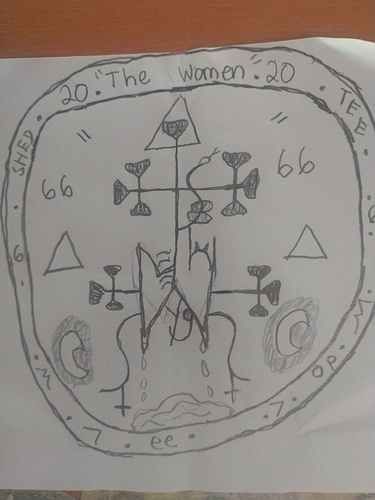 Camera shot taken from my phone of sigil I created, so my work