So ive been working with the Goetia for the last few months, its been… Its been eye opening to say the least. So I've been working on channeling the energy into pieces of art, ive had a connection with Dantalion prior to this working, he's been extremely helpful in opening up my mind and senses towards him and other spirits, and to not take short cuts with ritual.
Anyway, this is his channeled image, his constant changing appearance is best described as if you've ever seen the movie "a scanner darkly".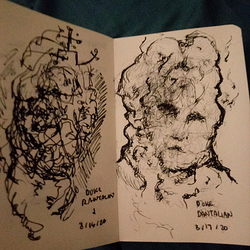 I plan on doing more of this art and channeling, its a nice way to solidify a connection to an entity. Thank you Duke Dantalion for your help!