Pleae let me now if it's alllowed to post here. Can someone scan my pendulum?
Is something wrong with it?
Hi
doesn't sem like it. But they are known to be dirty and needs cleansing, etc. Can you please tell me what you see in it? I personally don't feel a negative pull from it? anyone else can check? I'm not too great, thanks!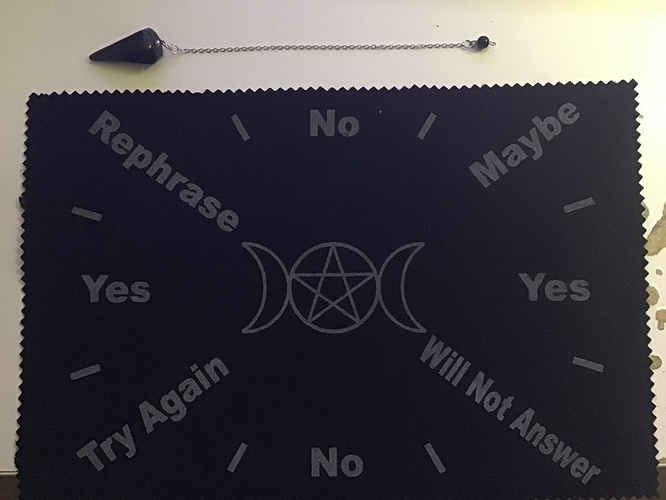 sorry for the edits. My keyboard is a mess lol
Have you used it a lot? It not seeming like it needs to be cleansed yet or clogged. Usually when pendulums or even tarot will act up when clogged. The best way to check is to ask question you know the answer to and see if you get a flash reading.
@Angelb1083 I have not used it at all yet. The pendulum arrived in a velvet bag. The mat arrived today. Seems normal to me. I did not get it from an occult shop, but from a trusted amazon vendor.
Just wondering what others get from seeing/analyzing it. I need to practive more lol.
It's fine. I use mine "raw" right from the shop or amazon. Then I cleanse as I go. I haven't had a clogged one yet. I am really strong with them. I haven't need to cleanse yet. And it's been a hood 6 months with one of mine.
Generally, it is recommended to cleanse and consecrate a pendulum before using it, but, as @Angelb1083 said, it is up to the magician.
I let mine sit in a bowl of salt for 24 hours before I first used it to ground out any energies from the people who handled it. I bought it from a New Age/Wiccan shop though, so plenty of people probably touched it before I bought it.
I love on the wild side
but I think I do it because I am physic and I like to see if anyone touched it before I got it. Since items like this can't be "returned" normally it's just seeing who played with them before I bond Permanently with it.
But I also know how to protect myself. If you aren't used to stuff like this @DarkestKnight method is a go to. Sadly I have seen things for sale online that had stuff attached that shouldn't be. So when I am putted to stuff like that (it was a gem) I do cleanse it. I don't want someone going and vamping my energy.
And here I am thinking everything out there is litterally dirty and needs cleansing

it seems not everything is actually attached with something to need cleansing after all.
When I doubt cleanse. Like I said I live on the wild side.
I don't feel anything wrong with the pendulum or mat, but I never have problems with my pendulums although I make my own and empower them during the creation of it.
Any tools you buy you cleanse it and program it for you to use. That's the golden rule. And don't let anyone touch it. I thought that was common sense in the world of magick.

That's not always true when it comes to brand new practitioners. There's hundreds if not thousands of websites and books about Magick that never mention cleansing tools, ritual spaces or oneself. Even here in the forum we hardly talk about it. So for someone brand new it is just the luck of the draw. All of my first Magick books were about home and hearth Magick so there was a lot of cleansing techniques. I have about 30 books that are spell books and they don't go I to technical stuff just spells. If you don't know what to look for you will not know.