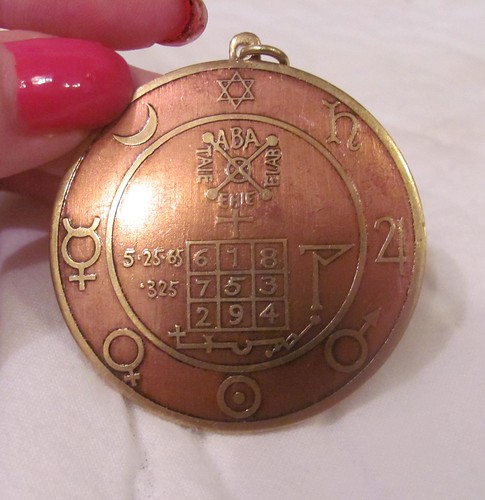 Can anyone break down all the symbol and what is it use for?
http://www.jezuss.nl/ma/magic.htm
look under magic square
Square of Saturn i think. Planetary symbols on the outside. I think it is a kabalistic talisman. I can not tell its purpose though because i am not working in planetary magic or the sephiroth. I think it is inverted though. No clue what ABA EIAB EHIE TAIE means either.
5 25 65 325 -> Mars
Sigil right of square: inteligence of the Sun Nakhiel
Sigil below the square: Samael
Aba = father
Thanks a friend send it to me and ask me if I have ever see it before. I'll check the link out. Great help
That's really interesting.
Where did your friend get it?
Last things i found in a german discussion board: it is a universal protective charm ment to be hang on a wall not worn. The words aba taie ehie elab have a connection to jupiter but are not translated or elaborated.
ABA (father) EHIE (you will be?) TAIE (?) ELAB (life ?)
It is a Jewish tailsman for luck and protection, some of the most obvious symbols are the Star of David, the symbol to the top denoting faith and healing, other symbols around the disc are the symbol Male. A circle shown with a diagonal arrow pointing up the bottom-right, used as a representation for men or Mars symbol (often considered to represent a shield and spear).
One other symbol is the feminine or female circle with a cross to the bottom or Venus symbol (often considered to represent a bronze mirror with a handle).
That was fast. Great link with a complete description of the symbols. Another mystery solved.
I do what little I can LOL
Got it from Les 13 pentacles Du Bonheur by Jean-pol de k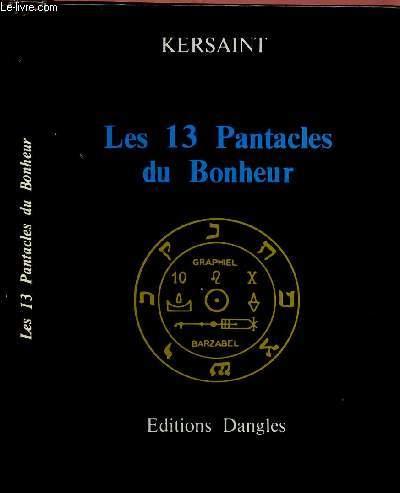 https://pictures.abebooks.com/LELIVRE/22575636198.jpgersaint
Yes , it is a universal protective pentacle not meant to carry on self
I don't suppose anyone could tell me what the purpose of the numbers are? I honestly am just seeing sudoku.