So, I just woke up some minutes ago, with this Dream. It was very weird, long and besides of them: very old! I have what kept repeated after XY years. Some of them changes, some of them are not. This one is something from the first 'camp'. It became longer…
The Dream
It was still as weird as when I first dreamed it, absurd, unusual… but it happened on real places, where I walked before (even as a young child). I have a friend and my little brother on my side, and after a long part of a dream, we suddenly popped up on a place what I knew very well, and in that moment I realyze what will happen.
I've noticet that stooping, malformed faced 'child' (around age 13-14) figure with black clothes; exactly the same moment and place when it happened 10 years ago. He carried behind him a chariot, and just walked towards us. When I first met with him, I have terrible fear, and woke up before he got me. I don't wanted to meet him again, at all.
10 years has passed without any sign of him, now he appeared again…
But at this time, the dream became longer…
When he came towards us, I smirked, grabbed his clothes and pushes him into a big pile of laying on the middle of a road. Everyone started laugh at him, then we leaved this mentally sick, creepy boy. I've always felt someting terrible negative towards him, so…
I made a joke about him, and suddenly… familiar pictures started appearing before me. Images about him. One of them in a dark forest, with a big, 1000+ years old tree… somewhere he, lurked in the blackened shadows I've felt on that picture. And in the other one, I saw a creepy, fish-flower/plant like completely toothy creature floating in the water, with opened mouth: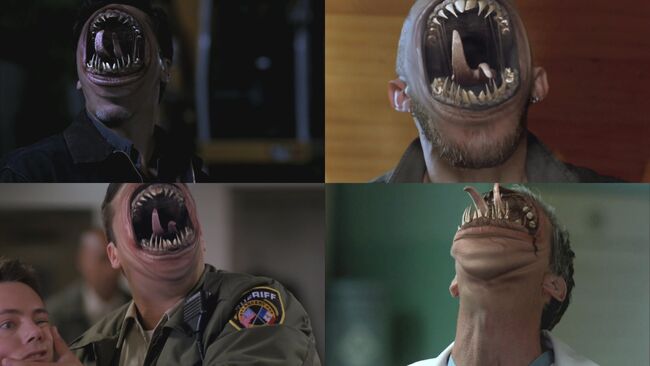 (Just an illustration)
I've just told my friend and brother: That's he.
The scene has skipped, and the two kid played on the ground on my presence. They was absolutely unsuspecting, when I've noticed the boy standing before us on the other side of the ditch. His face was as malformed as before, his eyes was black, his tooth was deformed, and his position was as stooping as before… I've told the others that he is here, they are looked on the ditch side but sees nothing.
The boy smiled, then started to roaming. The environment has changed, as he do… he has a black body with almost absolutely no arms (just two little one, like my fingers), and I saw that his body is similar like… mushrooms. But it's yarns was way bigger, thicker.
He ran in front of me, wanted to attack my brother. He don't even noticed the creature, and suddenly I have the feeling that at this moment, we are not in the pysical plane anymore, but somewhere else. I saw my arms, I had a darker skin, decorated with lot of gold jewelry. I've grabbed the creatures skin with my strong claws and let out a horrifying roar which wasn't human-like, at all, but I'm sure it was me, came from my anger, it was like "How did you dare, you bastard?".
(I can even remember his human form's name: Arany Attila)
This was a point when I woke up now, with very confused thoughts, emotions and another questions.
Why did this dream happened, after 10 years?
What the hell was this creature who started stalking us 10 years ago?
I clearly attacked him in an another dimension, maybe it really came from there?
10 years ago this dream got cut down. Now it continued - what is the reason behind it?
…And why am I possessed with the tought that I want to kill it now?
I'm about to find answers to my questions, but I would appricate if you would share with me yours about this. Not have to answer the questions, you can observe the dream itself as well, feel free.
(And forgive me my poor english, I just woke up some minutes ago, can not sleep back.)