Can someone explain what differentiates demons and angels? I couldn't find a very clear answer
Demons are spirits that are classified as more rebellious and dark and are more connected to our plane (lower vibrations)
Angels are of higher vibrations that's the only difference IMO
In this generation of ours we believe Angels are the saint and Demons are the destroyer (bad ones).
But the truth is they are all Angels. That's why they are called 'Fallen Angels'. Be it Belial, Satan, Lucifer, Michael, Imanza, Raphael, they are all Angels, brothers. Just that their energies are different. Like, oil and water.
But nowadays, when someone will talk about Demon their mind is on Spirits like Satan, Gaap, Seere, etc and talking of Angels they think of Anael, Michael, Raphael, etc but they are all angels. More like, let me put it this way, holy and unholy Angels or living and fallen Angels. They were companion of themselves. Yet they are still brothers till today.
Just as so many, especially religious people don't know that Satan and Lucifer are two different entities. They were taught Lucifer and Satan is one being. They don't even know if the Spirits are vary, they believe there is only one devil which is Satan, and he has servants. They don't know more than that.
Howbeit, there are some entities who said they can'tbe called Angels. That they are just Messengers. But I'm yet to see anyone on here talk about such Spirits. It's all Goetic.
Nothing except who's the God we're talking about. Demons are Satan's Angels
There's not really a clear answer because it highly depends on cosmology. My answer though is that angels are more connected with a creative source than demons, who liberated themselves from said source to be thier own. Some demons probably tap energy from the creative source but those are usually demons of great power beyond our comprehension.
Demons are Satan's servant? Lol Satan himself is a demon.
Satan's Angels, not servants. I disagree… Satan is not a Demon. He's God of what we call Demons.
First of all, he's not one being or entity separated from demons. He's "The ALL". All Demons are Satan. And Satan is All demos. The same with what we call God. All Angels are one God… That's why he's called "Elohim".
I understand you clearly. But I need you to understand that the word 'SATAN' can be Noun or Verb. Satan a name of an entity; satan, accuser or adversary. So all demons are satan (verb), yes, which lead to their fall. But there is a being who is Satan. You should know, Lucifer is the Emperor.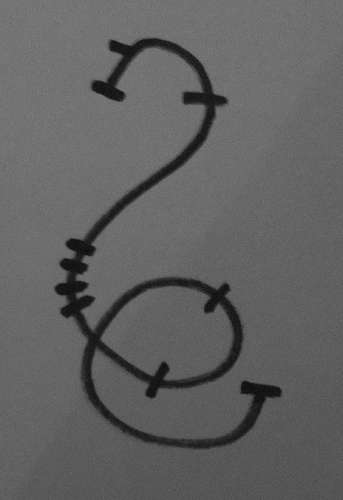 Satan sigil.
Yes exactly. I agree with you… Satan has dual nature, he's the all of all demons and a person or a being at the same time.
That's it, bro. What type of Magic do you practice?
Thanks you… I think it's a mix of chaos magick, wiccan witchcraft ( the craft itself, not the religion ) and hoodoo. I use the principles of chaos magick, the spell work techniques of wiccan witchcraft and symbolism of hoodoo magick.
Alright. Mine is totally different. Don't know how to explain it. But i work with Talisman, Seals, and other Magical Arts, such as Pauline Art, Almadel Art, etc know about 'em?
Yeah sure I know but not much to be honest. I read about them in high magick books, the theory and practice behind them, especially Talismans. but never used them. Sounds interesting… how you would describe your results with Talismans ?
Oh it works awesomely.
This, for example, is used for sport: running, horse-ridding, football, goalkeeper, audition, etc.
Wow looks great ! Thank you, I will get back to research and try working with them. I think that's what I was looking for !!!
There is no a clear answer for that. There is and there will always be dilemma . Even the best medium will have answers depending on his/her subconscious or we may say all depends on the UPG in a way.
For me there is oneness. Yes, it contradicts the general beliefs but sounds nice to me.
It is hard to accept at once though. How come they are ever the same. I suggest a little quantum theory to ease things and see my point. For example I may suggest the The Secrets of Quantum Physics by BBC, this is a documentary where you may see how things operate in universe, yes this is yet physics but a part of it where the distinction from metaphysics seems less obscure. It may give an idea how universe entangles everything and how creative they may be throwing dices for anyone at once.
Basically, I think that our views over the universe are poisoned by JCI, and this is done on purpose to create slavery and exploit human race. Interestingly if one gets away from it gets more light not just himself but humanity as a whole. History says so, i.e. renaissance.
So if one look for a deeper understanding about angels and demons maybe go think a little why the love is the higher law, or what may as above so below means. There is not a clear cut duality, nor just black and whites but full colors as in the worlds and as in the aether.
Wow, thank you very much!
I dont really care about angel demon or god
Some demon ever be worshipped as gods
Bael worshiped as baal/marduk etc
Berith worshiped as baalberith
Sorath as surt in norse pantheon
Belphegor as baalpeor
Some people believe samael worshiped as mars/ares in greco roman pantheon!
Lucifer is perfect balance! He can be an angel and demon at the same time
Paimon, is beautiful demon, and he has angelic energy too!
Samael, some believe he is strongest angel, more powerful than michael, but his office as God killing machine! But some people say he is an archdemon, but he is worshipped as god of war too! So i dont really care about who is angel who is demon etc
As long as he/she can be my partner!
There are two sides of the same coin as I like to look at it with humanity being the edge of the coin not belonging to either one but is in the pressance of both.
Yepp
Demon can be angel at the same time lucifer for the example
So we shouldnt focus to who is he/she angel demon god?