So this is officially a new year and one that I'm for one am excited to see how it goes. I was looking back on these old forums I use to go on years and years ago when I was fresh on my path and seeing others doing the same, this brought me the idea to join in and start up a journal not just to share but one that can also help me with my on going growth and transformation of this new year. So what better way then to share my experiences with others who either may find it a good story or that may help them as I see it that at times our own experiences can be another's answers.
So for today's post I wanted to share an experience I had of late. I have one posed as well if anyone is interested to read. But in that post I talked about a being that has been with me for I'd say a month now. Maybe two.
Now i felt no ill from him and despite my downers that I'd throw at him, he still sticks around and seems to honestly care about me. Now who he is I still don't know for sure, just he's really cool despite him going off for a bit only to come back. But I respect he has a "life" too. But one of the more out there things he's done so far was last night.
So you see I have had pain in my upper thigh area near my butt. It's not a cramp but I think I pulled a ligament because every time I sit on the floor or even crouch or get up from my bed, a rawring pain would come to me and I nearly cried out in pain. Well last night I felt him around me for the first time in a bit. I recognized him by his unique tail that I never see any other being have. I felt this feeling he wanted to make love, but because of my leg I couldn't exactly do it. But I felt him basically saying to try. So I was like "Why the hell not". So I did. Now odd thing is, I had no pain for the first time in days and today was the first day I had almost zero pain. So I do have to thank him for helping me with my leg. <3 and hope he knows that I do appreciate him.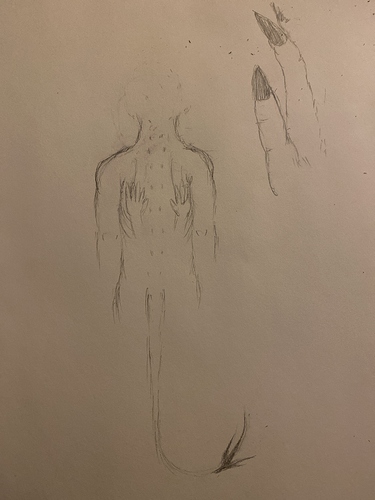 !
This is a drawing I did of him a bit ago. That day I was connected enough to him to even see the bones under his skin and the muscles on his back. His skin color is this interesting combination of white/gray with a bit of blue. Now the hair on his tail isn't that long but I just drew it like that and it was black in color as well as his…nails, claws?
He had similar for his toes. Now the hands is basically to represent how tall he is compared to me.