A few years ago my mother gave me an old book of hers to work with: Richard Willfort: "Health through herbs" An encyclopedia about herbs traditionally used for improving one's health in different ways. It is pretty extensive and includes some lesser known plants like Glechoma hederacea and some well known species like the good old potato.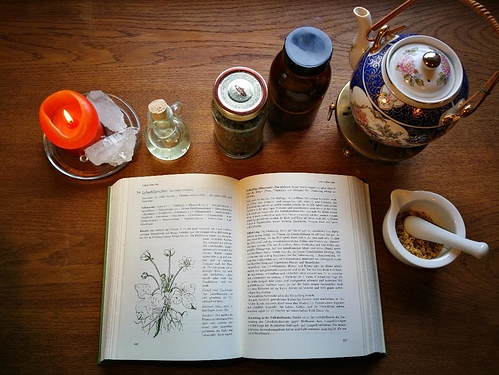 Recently I grabbed that book again in desperate need of something, anything that might help me heal my bone inflammation.
I also realised that it's a shame I never worked through the book completely, always only reading small amounts.
Eventually, my new project has been born! Each week (I hope I can keep this up) I will research one herb intensely, looking at health benefits, magickal purpose and trying something out (incense, tea, oil…) if possible.
In this thread I'm going to share a short summary of each herb.
The knowledge about health benefits will mainly come from above-mentioned book, as well as from my mother's and my experience.
As for magickal purpose, I use the book Magister Botanicus – Magisches Kreutherkompedium and a variety of internet sources. So obviously, I don't own any of their knowledge. (!)
Important disclaimer:
I'm simply summarizing knowledge and sharing it, giving you a glimpse of what herbs can be used for.
I am not a doctor, nor do I have any medical training. Herbs should be used as an addition not a replacement for medication you may use. Also they should be treated wisely and with caution, don't make the mistake of thinking "It's only plants, it can't hurt." - Eat one leaf of the wrong plant and it really won't hurt anymore, cause you're dead.
If you have a serious health problem please go consult a doctor.
If you have any questions or want more information about a plant, feel free to PM me.
Just a random picture of cat with plant: