Simple question. I'm going later to purchase. Thank you all
Out of Wines, Cabernet Savignon. He does tend to prefer Brandy or Whisky to Wine with me though.
Much apreciated. Thanks. I noticed some of them like wine a little more than blood offerings.
You are welcome. Belial likes his blood. He also likes Wines like deep dark blood , hence why he liked the Cabernet Savignon. I offered him Baileys once, he hated it lol.
You can't go wrong with a good red with him though.
Seconding the cab sav suggestion. Any dark red wine is good. I always offer him the last (and therefore most desired) glass of any Cabernet Sauvignon I have.
Lol definitely true on bthe blood. I'll try making it known to him that I have other things to offer. I'll take your advice. So basically dark deep wine. Got it!
He likes raw beef steaks too . I always get powerful results with those.
Hopefully he doesn't get angry if I have no steaks. I'll keep steaks on the list, though.
Supermarkets do mini bottles for £2 here. I am unsure where you are in the World,but shouldn't be too expensive if you get one of those
Alright. I'm located in USA. Ill do m best
@Veil @anon18063248 One more question. Will Belial accept the offerings without me summoning him? Will he accept them if i just call him through his sigil? I am a little confused on that part.
Thanks again
Up to you. Some people like to call him and make their offering, or they summon the spirit and then consume it so the spirit can experience it through them.
Personally I just leave the offering on top of or near his sigil. Sometimes I say aloud "for you, Belial," (or whoever the offering is for) while doing so. Just do whatever feels right for you.
Also, if I leave the offering out in this way, then I won't consume it at all. Usually I'll leave it for about two to three days to a week (depending on what the offering is), then dispose of it, either in running water (pouring it down the drain while the tap's running is fine) or by pouring it out on the earth.
I see. This is after gazing and making the sigil flash and activate, right? After that, it's when you put the offering on top of the sigil?
I have an Alter for him with his things there. I either evoke him and make the offerings or leave them on his Altar and say out loud his enn a few times and light an Orange candle for him.
You can do the same if you wish. Light a Candle and have his Sigil with it and leave the offerings there overnight for him.
Nope, similar to Yennefer, I have an altar for him that's his dedicated space and I leave offerings for him there. But you should do whatever feels right to you.
Looks like I'll need to set up a small altar soon. Thanks
@Veil @anon18063248 Looks like this will at least make Belial satisfied, don't ya'll think? Both bottles will be entirely for him unless he wants me to drink with him. Not bad so far?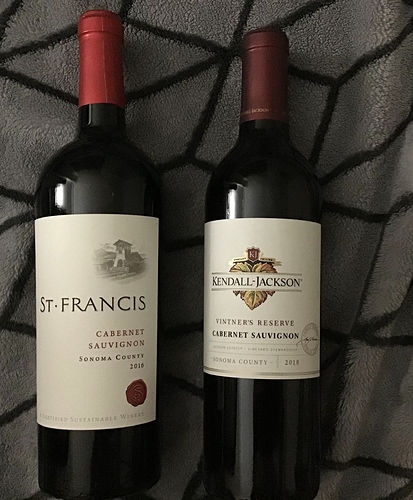 It has been said that Belial requires sacrifices, and sometimes, I think he prefers what the magician enjoys as offering. He asked me for some of my favourite cider, for example.
I've heard that as well. The night I found out my request was fufilled he litteraly visited me out of nowhere. Fiery energy, hot astral winds blowing against my face and body. He fufilled my request and asked for blood but my senses were crap so I couldn't "hear" him. It was my fault that i wasn't prepared, though. Total panic my first time but he understood and guided my hand to help me extract it.