Hello!
I would like a general reading please! I feel drawn to deck 9.
Thanks in advance!
Thankyou miku


I think this is very accurate with my current problem lol,
Maybe i wiĺl continue my pending project and i think to move on
May i ask one more time ? she can come back to me?
Thanks again miku
This reading is so accurate, I was having doubtful thoughts but deep down could feel the path I'm on currently is the only path I was meant to be on. Your reading is confirmation in many ways. Many many thanks to you !
If this is still open I'd like one. The Metatron(9) and the Message from your angels(2).
I'd appreciate a lot. Thanks.
You can look forward to the rapid completion of a project currently underway, but you can also expect to be occupied by something new and even more exciting soon. There is no stopping you right now as you are just bursting with energy and ideas, and you cannot wait to achieve one task and start another. To maximise this energy, make sure your activities align with your broader goals and invest in the right things at the right time. Also, make sure your previous task is complete before you move to the next one.
You will receive an unexpected and pleasant surprise. The Pages are often known as the messenger cards, and with the Page of Water, you may receive a message related to the emotions, intuition, or creative endeavours.
You will soon be feeling happy, positive and good about yourself. Now is a great time to begin new friendships and get out there and socialise. Some good news or celebrations coming your way.
The page and ace of cups predicts pure and innocent love. These two cards signal the presence of a certain special someone in your orbit. They could be the last person you'd expect to have these qualities, but pay close attention to how you feel when they're around. You may also find you're remarkably artistically inspired of late as this combo signifies creativity.
If you have been working hard or putting the extra effort into something challenging and important for the last few months, the endeavour or project is near its culmination. Rest assured, your hard work will pay off. You are likely to see financial or other tangible rewards for all of your hard work.
Indigo holds mystery and beckons you into its embrace to reveal the meaning of existence and the meaning of you.

Master number 33 is linked to Crystalline Light and Higher Powers.

All you have done, been, seen, or experienced is recorded in the hall of Akashic Records.

The Rainbow Bridge is never closed . . . It is always open and offers a portal through which you can be in touch those you have loved but have now passed over.

The Five of Water is a regretful card full of sadness, loss, and despondency. It could be a sign of not appreciating what you have in life or possibly avoidance of something yet to come. The disappointment and discontent associated with this card provide an answer of no to your question.
Card number 11 links to the planet Pluto and rebirth. It also relates to the 11:11 coded Wake-up call programmed to make us sit up and take notice of spirit.

You seek clarity now on something that is bothering you and making you feel out of balance.

because maybe our problem is very complicated, can it be fixed with magic? Because next week she invites me to lunch.
Thanks miku
Thank you very much
from Gabriel if you are still doing this please.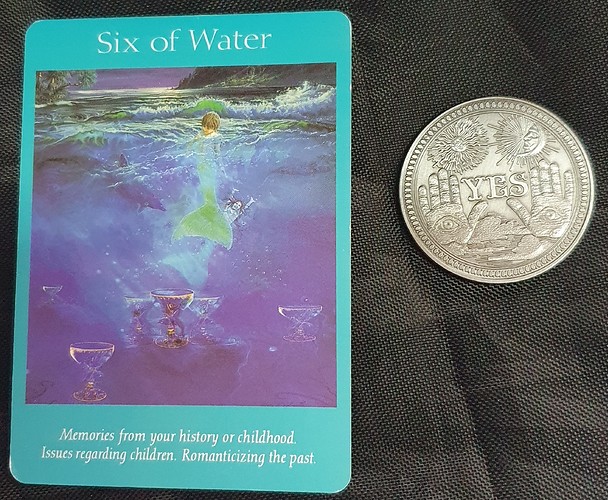 The Six of Water says something by the way of reconciliation and leaving the past behind. It could mean some sort of apology or returning to the past to unlock skeletons from the closet. There is a sense of relief and moving forward with its presence, and the answer you seek is likely yes.
Thanks. A lot of this resonated with me.
thank you for the reading