I've asked my deck if there's something I should knowabout myself, what the thing is I needed to know. King of Wands. I don't feel like I'm missing his energy in my life. I asked for clarification. Queen of Wands
I drew him once or twice for something else but I guess I overlooked him too much.
I was pulling through spreads on Google images and I found one that piqued my interest. I'm not consistently trying to look for spreads like this but I guess that it was interesting to me at the time.
I got an amazing result.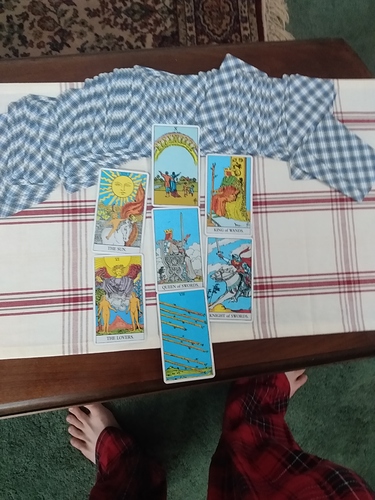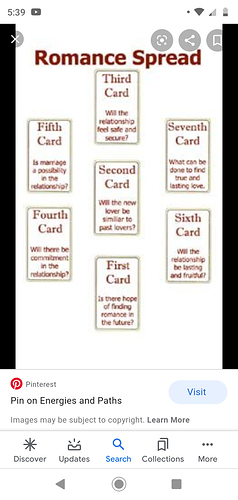 I did this with my ex, who I personally think I'm going to get back together with.
First card, will there be hope for finding a romance in this, eight of staves. It's all falling into place, rather quickly. My choices here are very important.
I don't really care about the second card too much. Queen of Swords does not seem to relate to other partners, most of which are rather uninteresting and not even close to the same as me and him.
Third, is there a chance of security and stability?
I cannot imagine a more secure relationship card than 10 of cups.
Will there be a commitment in the relationship? Lovers, yeah.
Is there a chance of marriage? Sun. Sun in yes or no spreads usually always means whatever the most positive answer is for my layouts, and so I would say yeah.
Will the relationship be a lasting and trustful? I believe we have a good chance, we carry strong will and submittable strength, but rushing into things without seeing where you were looking could say, perhaps not. Like I said, my choices right now are particularly important.
Finally, the man of the hour, someone I literally cannot understand no matter how many times I try.
what can be done to find true and lasting Love? King of Wands. He won't leave me alone until I give him a fighting chance, but I clearly have no idea what he means. Am I lacking an authoritarian flare in my life? Do I need to run with the situation given to me with passion? Hell if I know, but it's very important it looks like.
What the hell does he mean?
This isn't about heartbreak anymore, I just want to know what I'm supposed to do here.